Der vorige Artikel ist mittlerweile etwas älter, daher gibt es an dieser Stelle ein aktualisiertes HowTo zur Installation von Exchange 2016 ab CU8 auf Windows Server 2016. Bei diesem HowTo handelt es sich nicht um das Update einer vorhanden Installation, sondern um eine Neu-/Erstinstallation auf Windows Server 2016. Ein HowTo zur Aktualisierung von Exchange Installationen findet sich hier.
Exchange 2016 kann nur auf Windows Server 2016 mit GUI (Desktop Experience) installiert werden. Server 2016 Core und Nano Server werden nicht unterstützt. Das Active Directory Gesamtstrukturfunktionslevel muss mindestens Windows Server 2008 R2 entsprechen. Ältere Funktionslevel werden nicht mehr unterstützt.
Exchange 2016 CU8 unterstützt .NET Framework in der Version 4.7.1. Neuere NET Framework Versionen können Probleme verursachen und sollten daher nicht installiert werden. Hier gilt es die Exchange Support Matrix zu prüfen.
Windows Server 2016 vorbereiten
Vor der Exchange Server Installation sollte temporär Windows Defender abgeschaltet werden. Es kann sonst zu einer längeren Installationszeit und anderen Problemen kommen:
Nach der Exchange Installation kann Windows Defender entsprechend konfiguriert und wieder eingeschaltet werden (siehe unten).
Page File fest einstellen
Die Größe der Auslagerungsdatei sollte fest auf die Größe des Arbeitsspeichers plus 10 MB eingestellt werden. Bei 10 GB RAM (10240 MB + 10 MB) macht das eine feste Größe der Auslagerungsdatei von 10250 MB:
Wenn der Exchange Server über 32 GB oder mehr RAM verfügt, gilt als maximale Größe 32778 MB für die Auslagerungsdatei. Bei 64 GB RAM bleibt es also bei 32778 MB für das Page File.
Hinweis: Exchange Server sollten nicht mehr als 196 GB RAM haben, wird Exchange auf physischen Servern betrieben, sollte HyperThreading deaktiviert werden.
Je nach Umgebung und Storage kann es Sinn machen das Page File auf eine separate Disk zu legen. Wenn das Page File wie oben zu sehen auf Laufwerk C: liegt, sollte C: entsprechend groß dimensioniert sein.
Für die Installation von Exchange empfehle ich eine separate Disk zu verwenden. ob es sich dabei nun um eine separate virtuelle Festplatte oder um ein eigenes Array/JBOD handelt, hängt dabei von der Umgebung ab.
Für virtuelle Exchange Server wäre zum Beispiel ein typisches Setup
C: VMDK oder VHDX an Controller 1 für das Betriebssystem (~70GB + Page File GB)
D: VMDK oder VHDX an Controller 1 für Exchange Installation (150 GB)
E: VMDK oder VHDX an Controller 2 für Datenbanken / Logs
Exchange Voraussetzungen installieren
Exchange benötigt einige Windows Features als Voraussetzung für die Installation, diese können bequem per PowerShell installiert werden:
Install-WindowsFeature NET-WCF-HTTP-Activation45, RPC-over-HTTP-proxy, RSAT-Clustering, RSAT-Clustering-CmdInterface, RSAT-Clustering-Mgmt, RSAT-Clustering-PowerShell, Web-Mgmt-Console, WAS-Process-Model, Web-Asp-Net45, Web-Basic-Auth, Web-Client-Auth, Web-Digest-Auth, Web-Dir-Browsing, Web-Dyn-Compression, Web-Http-Errors, Web-Http-Logging, Web-Http-Redirect, Web-Http-Tracing, Web-ISAPI-Ext, Web-ISAPI-Filter, Web-Lgcy-Mgmt-Console, Web-Metabase, Web-Mgmt-Console, Web-Mgmt-Service, Web-Net-Ext45, Web-Request-Monitor, Web-Server, Web-Stat-Compression, Web-Static-Content, Web-Windows-Auth, Web-WMI, Windows-Identity-Foundation, RSAT-ADDS


Nach der Installation der Windows Features, muss noch die UCMA Runtime 4 installiert werden:
Unified Communications Managed API 4.0 Runtime
Exchange 2016 CU8 unterstützt .NET Framework 4.7.1, welches noch nicht Bestandsteil der Windows Server GUI Installation ist. NET Framework 4.7.1 kann entweder über Windows Update installiert werden, oder per Offline Installer. Der entsprechende Download findet sich hier:
Jetzt sollte noch ein Neustart des Servers erfolgen, dann kann mit der Exchange Installation begonnen werden.
Active Directory Schema Update
Bei größeren Active Directory Umgebungen mit mehreren Standorten und AD-Domänen muss das Schema Update für Exchange manuell ausgeführt werden und die vollständige Replikation abgewartet werden.
In kleinen Umgebungen, mit nur einer Domain und am gleichen Standort, kann in der Regel das Schema Update auch durch das Exchange Setup durchgeführt werden.
Um das Active Directory Schema zu aktualisieren und alle Domänen in der Gesamtstruktur vorzubereiten können die folgenden Befehle verwendet werden:
Setup.exe /PrepareSchema /IAcceptExchangeServerLicenseTerms
Setup.exe /PrepareAD /OrganizationName:"ExchangeOrganisationName" /IAcceptExchangeServerLicenseTerms
Setup.exe /PrepareAllDomains /IAcceptExchangeServerLicenseTerms

Nähere Informationen zum Schema Update finden sich hier:
Exchange 2016 installieren
Die Installation ist nach der Vorbereitung einfach, daher gibt es an dieser Stelle nur die Screenshots und wenn nötig einen kurzen Kommentar.
Nach Updates muss in der Regel nicht gesucht werden, wenn bereits das aktuelle CU zur Installation benutzt wird: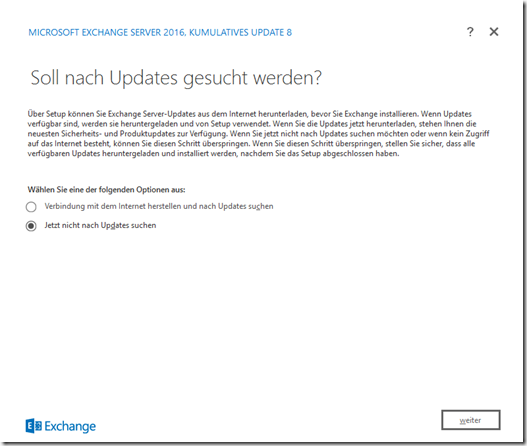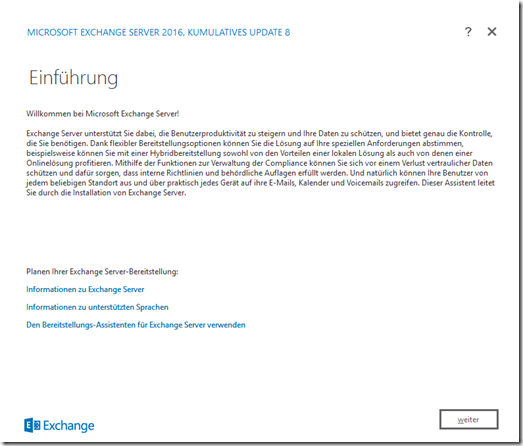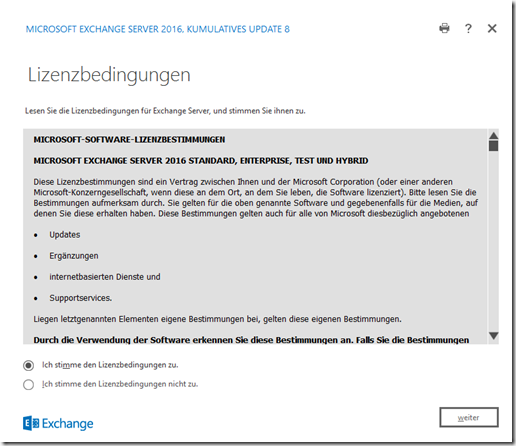 Ich wähle an dieser Stelle immer "Empfohlene Einstellungen nicht verwenden", denn so lässt sich der Pfad der Installation und der Name der Organisation festlegen: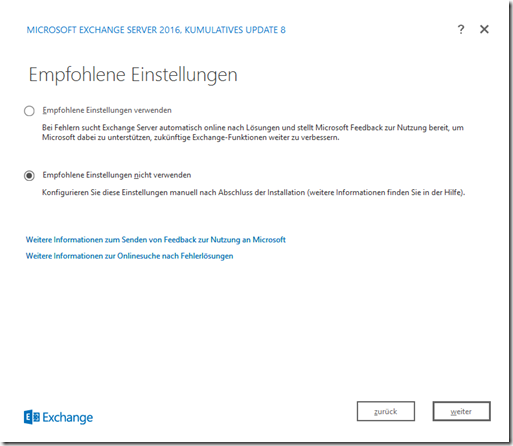 Da Exchange 2016 nur noch über die Postfachrolle verfügt (Ausnahme Edge Rolle), muss hier nur die Postfachrolle ausgewählt werden: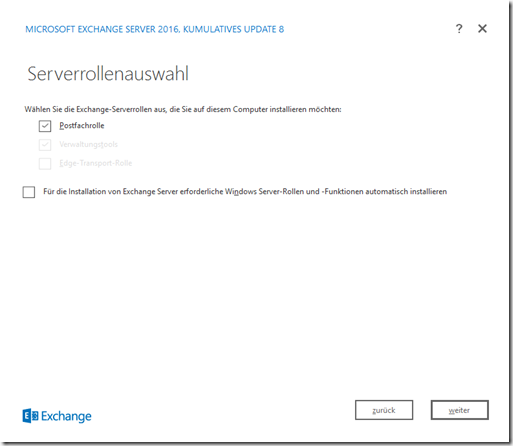 Die Installation von Exchange führe ich auf dem Laufwerk D: durch. Somit liegen auch keine Logs, Performance Daten, Queues, etc auf Laufwerk C: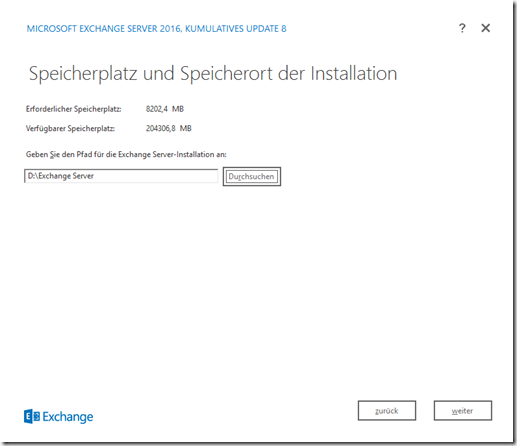 Hier lässt sich nun der Name der Organisation festlegen: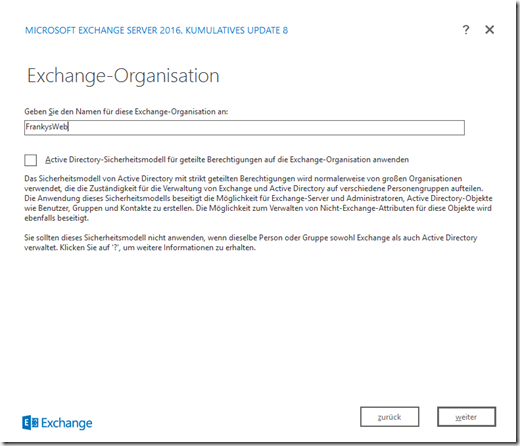 Mit dem eingebauten Schadsoftwarefilter von Exchange habe ich bisher keine guten Erfahrungen gemacht. Ich deaktiviere das Feature daher. Welche Einstellung hier verwendet wird, bleibt jedem selbst überlassen: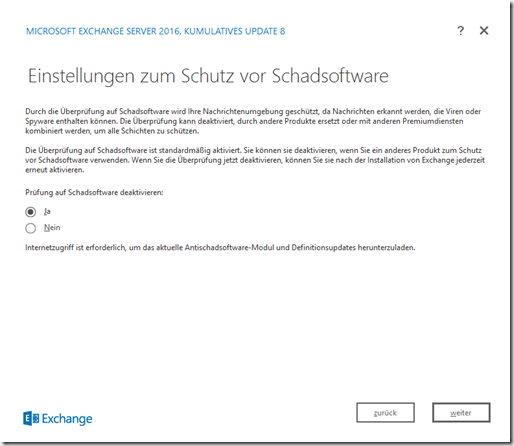 In kleinen Umgebungen mit beispielsweise nur einer Active Directory Domain und einem Standort kann Exchange Setup das AD-Schema erweitern. In größeren Umgebungen mit mehren Standorten und/oder mehreren Domänen sollte das Schema Update vor der Installation manuell durchgeführt und die komplette Replikation abgewartet werden: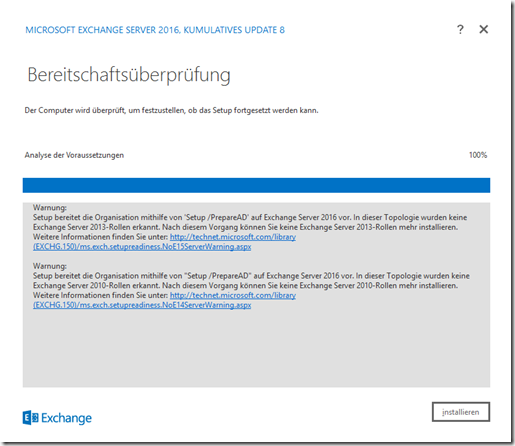 Das Exchange Setup benötigt dann etwas Geduld, die Installation eines Servers in meiner Testumgebung dauert immer gut eine Stunde.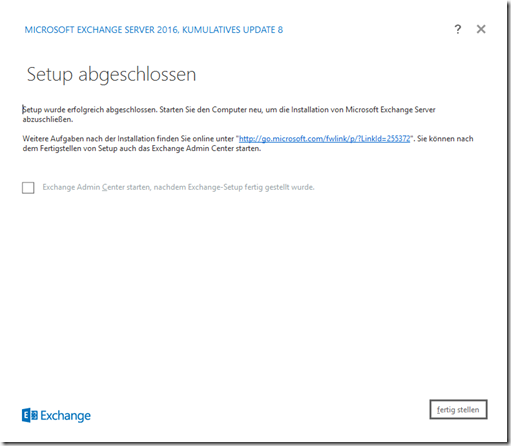 Nach der Exchange Installation
Nach der Installation muss die Grundkonfiguration von Exchange zeitnah erfolgen. Grund hierfür ist, dass Autodiscover bereits per Active Directory SCP angeboten wird. Da Exchange 2016 nach der Installation noch ein selbst signiertes Zertifikat verwendet, kommt es hier unter Umständen zu Zertifikatsfehlern in Outlook.
Exchange Konfiguration abschließen
Die Grundkonfiguration für eine neue Exchange Installation findet sich hier:
Die HowTos zur Migration von Exchange 2016 finden sich hier:
HowTo: Migration von Exchange 2013 zu Exchange 2016
Windows Defender konfigurieren
Windows Defender ist auf Windows Server 2016 per Default aktiviert. Da Exchange Server einige Ausschlüsse vom Virenscanner benötigt, müssen diese entsprechend auch in Windows Defender hinterlegt werden. Gleiches gilt für Virenscanner anderer Hersteller.
Auf dem Exchange Team Blog findet sich dazu folgender Hinweis:
Windows Defender is on by default in Windows Server 2016. Attention to malware settings is particularly important with Exchange to avoid long processing times during installation and upgrade, as well as unexpected performance issues. The Exchange team recommends the Exchange installation and setup log folders be excluded from scanning in Windows Defender and other Anti-Virus software. Exchange noderunner processes should also be excluded from Windows Defender.

Quelle: Exchange Team Blog
Im Technet sind die Ausschlüsse für Exchange 2016 hier dokumentiert:
Die Liste ist allerdings lang, daher hat Exchange MVP Paul Cunningham ein Script veröffentlicht, welches die Ordner, Prozesse und Dateitypen übersichtlich in 3 Dateien einsortiert. Das Script gibt es hier zum Download:
Damit nicht alle Ausschlüsse manuell in Windows Defender eintragen werden müssen, habe ich hier ein entsprechendes Script erstellt, welches die Dateien von Paul's Script benutzt und die Ausschlüsse per PowerShell zu Windows Defender hinzufügt:
Nachdem die Ausnahmen eingetragen wurden, kann Windows Defender wieder aktiviert werden.
Leider hat sich der Windows Defender in der Vergangenheit nicht unbedingt mit Ruhm bekleckert. Ich rate daher dazu den Windows Defender zu deinstallieren, wenn ein anderer Virenscanner installiert wird:
Und bei Fehlern während der Installation?
Während der Installation legt das Exchange Setup sehr detailierte Logs im Verzeichnis "C:\ExchangeSetupLogs" ab. Besonders die Datei "‪C:\ExchangeSetupLogs\ExchangeSetup.log" liefert wertvolle Informationen, wenn die Installation mal schief läuft.

Das Log sollte im Fehlerfall in Ruhe durchgegangen werden. Meistens steht im Log sehr genau, warum das Setup fehlgeschlagen ist. Nach der Behebung des Problems kann das Setup neu gestartet werden. Die Installation wird dann an der Stelle weitergeführt, an der es unterbrochen wurde (sofern das Problem behoben wurde).
Hinweis: Bei virtuellen Servern neigt Mancher gerne dazu im Fehlerfall einfach die VM zu löschen und "noch einmal von vorne zu beginnen". Dies ist im Falle einer abgebrochenen Exchange Installation eher kontraproduktiv, da Setup in den meisten Fällen bereits Einstellungen im Active Directory vorgenommen hat. Hier müsste man dann erst wieder "Leichen" bereinigen. Es ist also sinnvoller, dass oben angegebene Log zu analysieren und das ursprüngliche Problem zu beheben. In der Regel läuft dann auch das neu gestartete Setup durch.