Dieses Howto beschreibt die Installation von Exchange 2016 auf Windows Server 2016.
Hinweis: Dieser Artikel ist schon etwas älter. Es gibt hier eine aktualisierte Version:
Active Directory Konto anlegen
Windows Server 2016 setzt auf einer striktere Benutzertrennung. Es ist daher nicht ratsam den Exchange Server mit dem Benutzer "Administrator" zu installieren, sondern es sollte ein administrativer Benutzer angelegt werden, der die Exchange Installation durchführt. Es handelt sich dabei nicht um ein Dienstkonto, mit dem die Exchange Dienst gestartet werden.
Die folgenden Rechte sind erforderlich für das Konto, dass die Exchange Installation durchführt:
Domänen-Admins
Organisations-Admins
Schema-Admins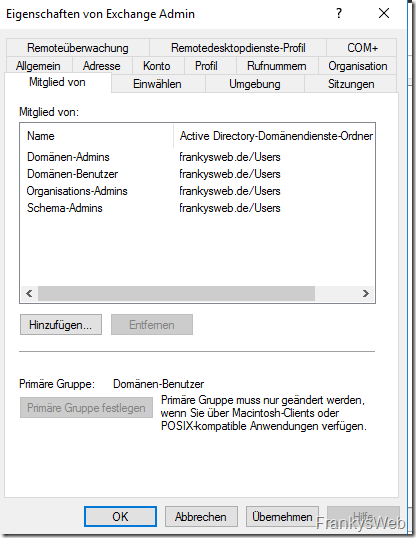 Hinweis: Die Gruppe "Schema-Admins" ist nur erforderlich, wenn das Schema während der Exchange Installation erweitert wird. Das Schema lässt sich auch separat vor der Exchange Installation mit einem anderen Benutzer erweitern.
Voraussetzungen installieren
Die erforderlichen Windows Features und Rollen können am Einfachsten per PowerShell installiert werden:
Install-WindowsFeature NET-WCF-HTTP-Activation45, RPC-over-HTTP-proxy, RSAT-Clustering, RSAT-Clustering-CmdInterface, RSAT-Clustering-Mgmt, RSAT-Clustering-PowerShell, Web-Mgmt-Console, WAS-Process-Model, Web-Asp-Net45, Web-Basic-Auth, Web-Client-Auth, Web-Digest-Auth, Web-Dir-Browsing, Web-Dyn-Compression, Web-Http-Errors, Web-Http-Logging, Web-Http-Redirect, Web-Http-Tracing, Web-ISAPI-Ext, Web-ISAPI-Filter, Web-Lgcy-Mgmt-Console, Web-Metabase, Web-Mgmt-Console, Web-Mgmt-Service, Web-Net-Ext45, Web-Request-Monitor, Web-Server, Web-Stat-Compression, Web-Static-Content, Web-Windows-Auth, Web-WMI, Windows-Identity-Foundation, RSAT-ADDS


Hinweis: Die PowerShell muss als mit administrativen Rechten ausgeführt werden: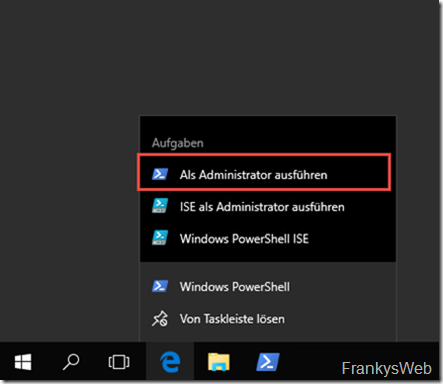 Nach der Installation der Windows Features, muss noch die UCMA Runtime 4 installiert werden:
Unified Communications Managed API 4.0 Runtime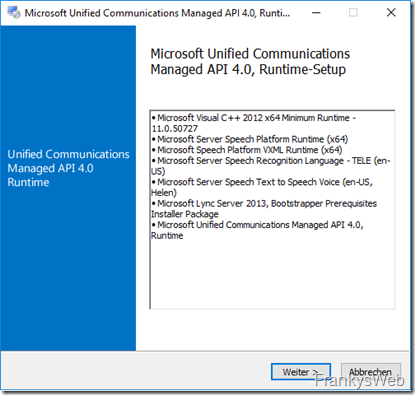 Windows Server konfigurieren
Vor der Exchange Server Installation sollte temporär Windows Defender abgeschaltet werden. Es kann sonst zu einer längeren Installationszeit und anderen Problemen kommen: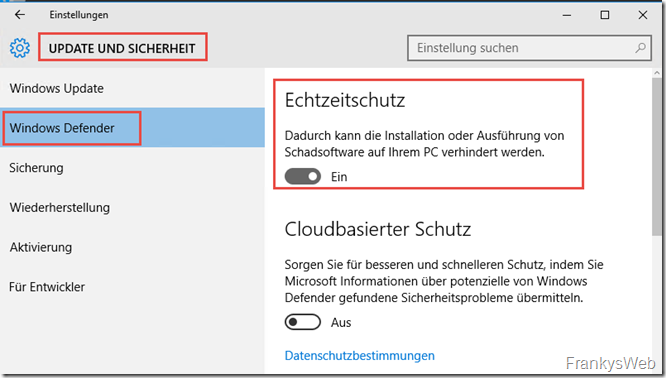 Nach der Exchange Installation wird Windows Defender entsprechend konfiguriert und wieder eingeschaltet.
Allgemeine Empfehlung für Exchange Server: Die Größe der Auslagerungsdatei sollte fest auf die Größe des Arbeitsspeichers plus 10 MB eingestellt werden. Bei 10 GB RAM (10240 MB + 10 MB) macht das eine feste Größe der Auslagerungsdatei von 10250 MB: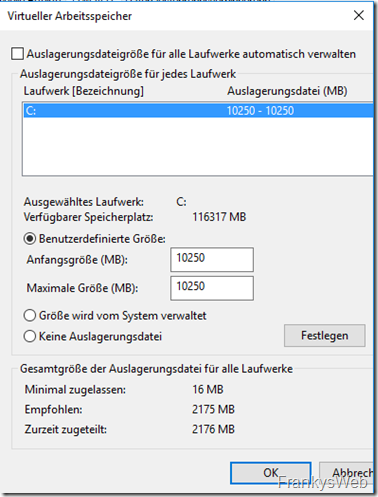 Wenn der Exchange Server 32 GB oder mehr RAM hat, gilt als maximale Größe 32778 MB für die Auslagerungsdatei. Bei 64 GB RAM bleibt es also bei 32778 MB.
Desweitern sollte aus Performance Gründen folgende Zuordnung von Laufwerken ratsam:
Laufwerk C:\ für die Windows Installation
Laufwerk D:\ Auslagerungsdatei
Laufwerk E:\ Exchange Installation
Laufwerk F:\ Datenbank
Laufwerk G:\ Logfiles der Datenbank
Bei mehreren Datenbanken bietet sich an Datenbank und Logfiles in Ordner zu Mounten, damit nicht die Laufwerksbuchstaben ausgehen.
In virtuellen Umgebungen können zusätzlich mehrere SCSI Controller genutzt werden:
SCSI Controller 1 für C:, D: und E:
SCSI Controller 2 für F:
SCSI Controller 3 für G:
Exchange Server Installation
Nachdem das Betriebssystem vorbereitet wurde, kann Exchange Server 2016 installiert werden. Ab Exchange 2016 CU3 wird Windows Server 2016 unterstützt. Das CU3 eignet sich auch für die Installation und kann hier runtergeladen werden:
Kumulatives Update 3 für Exchange Server 2016 (KB3152589)
Die Exchange Installation ist dann unspektakulär, daher kommentiere ich nur an den relevanten Stellen: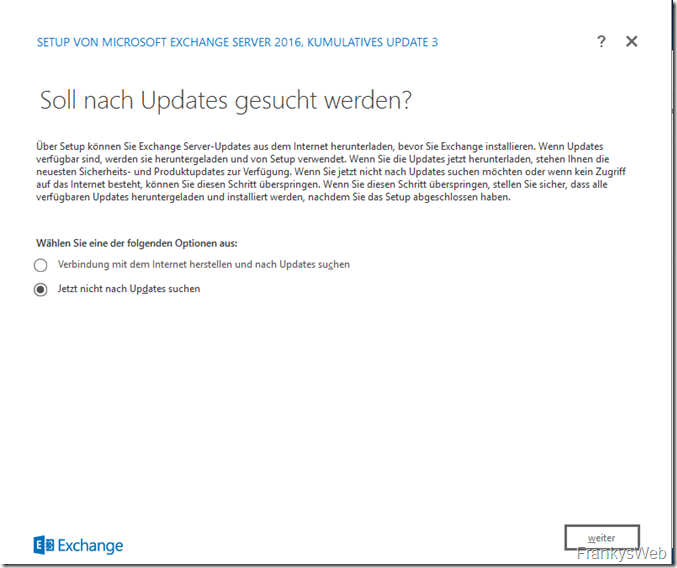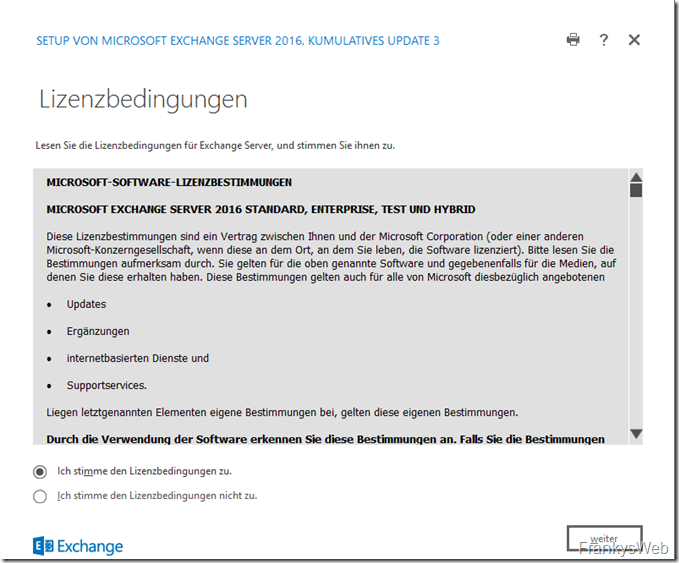 Im Anschluss an die Lizenzbedingungen empfiehlt es sich "Empfohlene Einstellungen nicht verwenden" zu wählen, da sonst im weiteren Verlauf Einstellungen nicht verfügbar sind: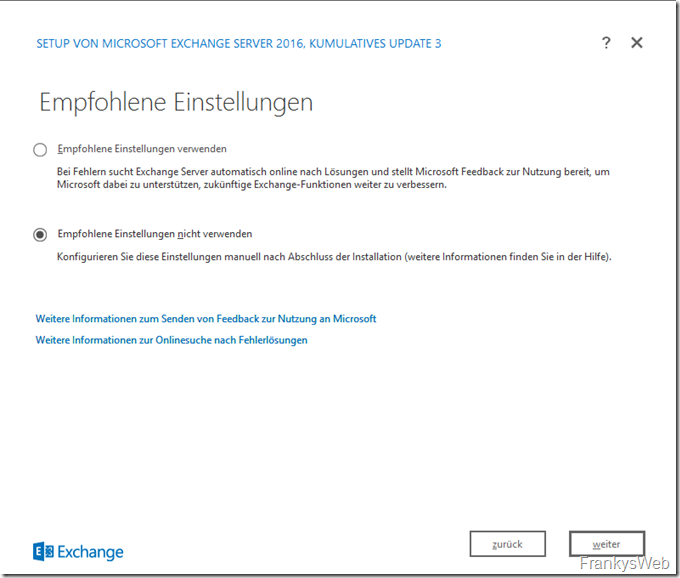 Exchange 2016 hat nur noch eine Rolle (Postfachrolle), abgesehen von der Edge Transport Rolle: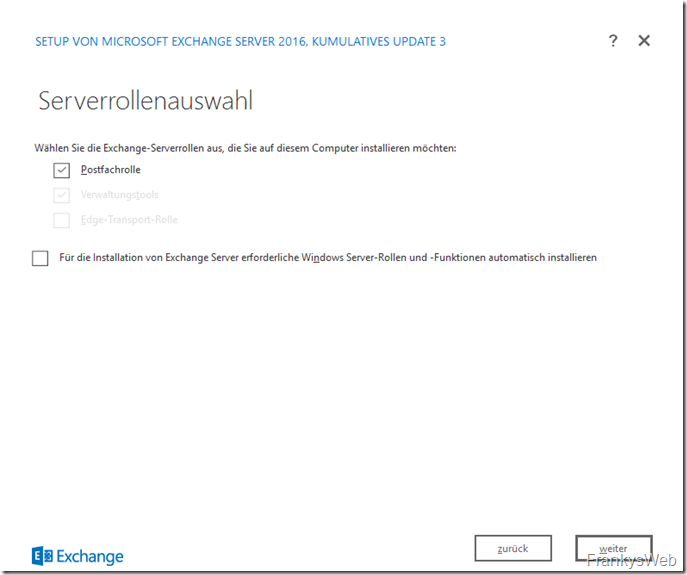 Nach der Auswahl der Postfachrolle, kann das Installationsverzeichnis angepasst werden. Wie oben beschrieben, sollte das Installationsverzeichnis auf einer separaten Partition oder Festplatte liegen: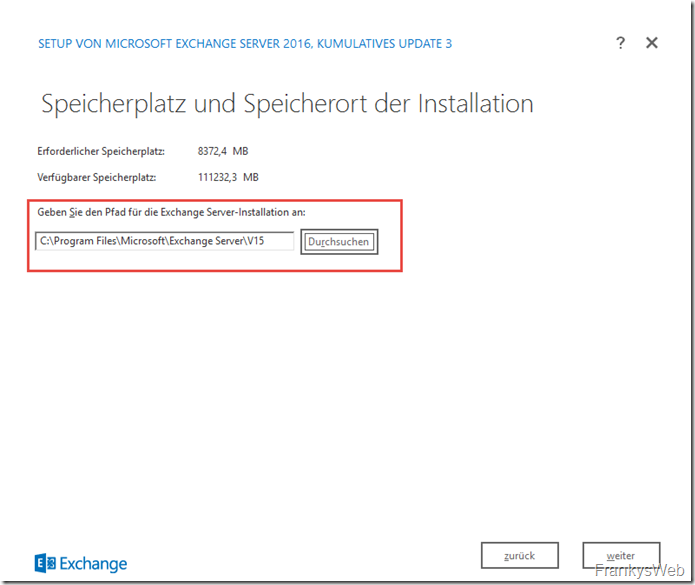 Jetzt kann der Name der Exchange Organisation angegeben werden: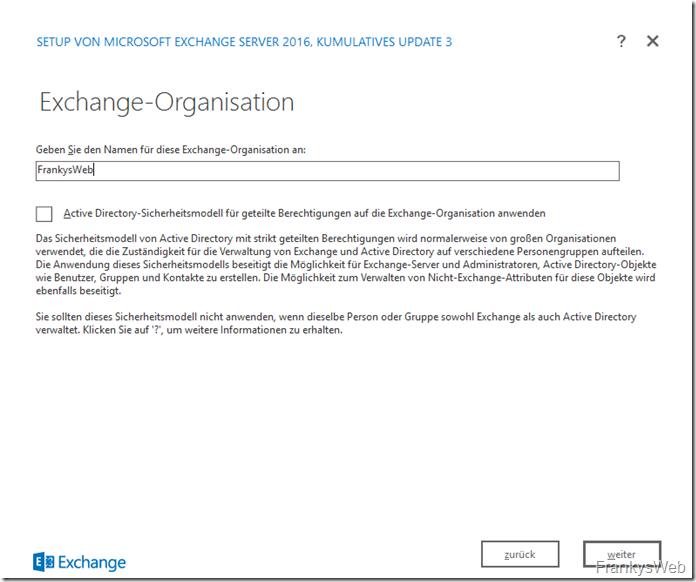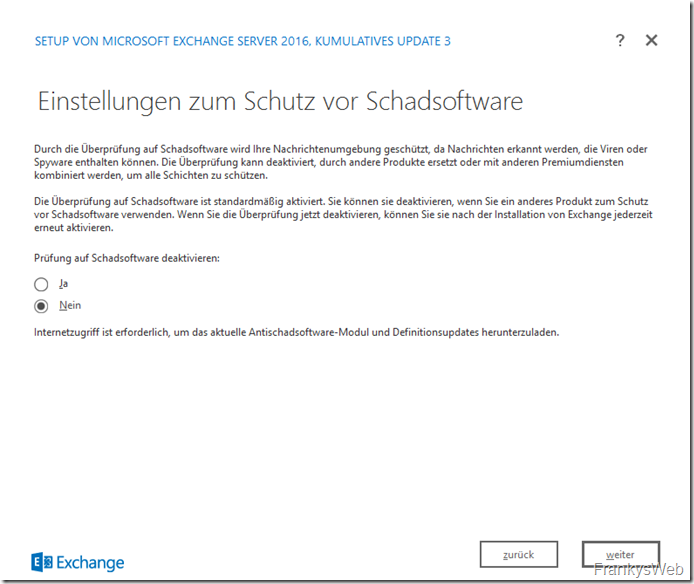 Sofern alle Voraussetzungen erfüllt sind, erscheint nur die Warnung, dass das Active Directory Schema erweitert wird, sofern es nicht vorher durchgeführt wurde.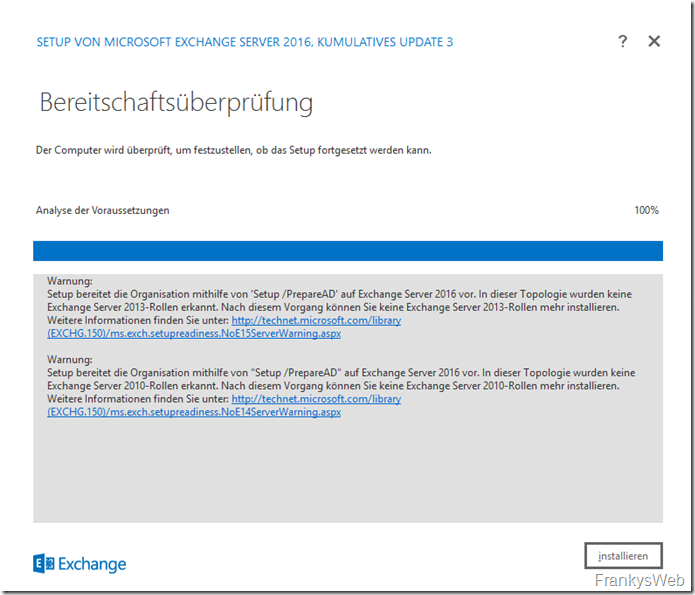 Nach Abschluss der Installation kann der Windows Defender konfiguriert werden.
Windows Defender konfigurieren
Windows Defender ist auf Windows Server 2016 per Default aktiviert. Da Exchange Server einige Ausschlüsse vom Virenscanner benötigt, müssen diese entsprechend auch in Windows Defender hinterlegt werden. Gleiches gilt für Virenscanner anderer Hersteller.
Auf dem Exchange Team Blog findet sich dazu folgender Hinweis:
Windows Defender is on by default in Windows Server 2016. Attention to malware settings is particularly important with Exchange to avoid long processing times during installation and upgrade, as well as unexpected performance issues. The Exchange team recommends the Exchange installation and setup log folders be excluded from scanning in Windows Defender and other Anti-Virus software. Exchange noderunner processes should also be excluded from Windows Defender.

Quelle: Exchange Team Blog
Im Technet sind die Ausschlüsse für Exchange 2016 hier dokumentiert:
Die Liste ist allerdings lang, daher hat Exchange MVP Paul Cunningham ein Script veröffentlicht, welches die Ordner, Prozesse und Dateitypen übersichtlich in 3 Dateien einsortiert. Das Script gibt es hier zum Download:
Generate Antivirus Exclusions for Exchange 2013 and 2016 Servers
Damit nicht alle Ausschlüsse manuell in Windows Defender eintragen werden müssen, habe ich hier ein entsprechendes Script erstellt, welches die Dateien von Paul's Script benutzt und die Ausschlüsse per PowerShell zu Windows Defender hinzufügt:
Exchange 2016: Virenscanner Ausschlüsse (Script für Windows Defender)
Nachdem die Ausnahmen eingetragen wurden, kann Windows Defender wieder aktiviert werden.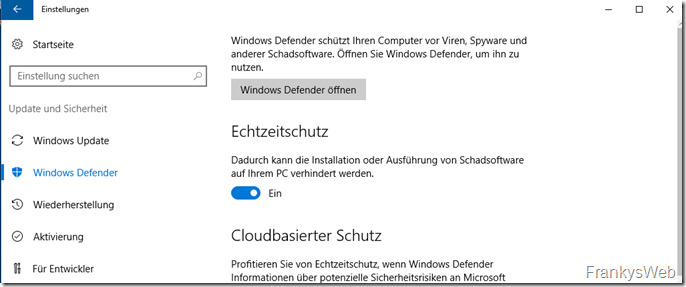 Hinweis: Dieser Artikel ist schon etwas älter. Es gibt hier eine aktualisierte Version: