Seit ca. einem Monat ist .NET Framework 4.7 verfügbar, voraussichtlich wird es auch bald per Windows Update verteilt. Auch wenn .NET 4.7 auf Windows Server bereits unterstützt wird, sollte man bei Exchange Servern vorsichtig sein. Hier die aktuelle Supportmatrix für Windows Server und .NET 4.7:
The .NET Framework 4.7 is supported on the following Windows Server versions:

Windows Server 2016
Windows Server 2012 R2
Windows Server 2012
Windows Server 2008 R2 SP1
Allerdings wird .NET Framework noch nicht in der Exchange Server Kompatibilitätsmatrix angezeigt: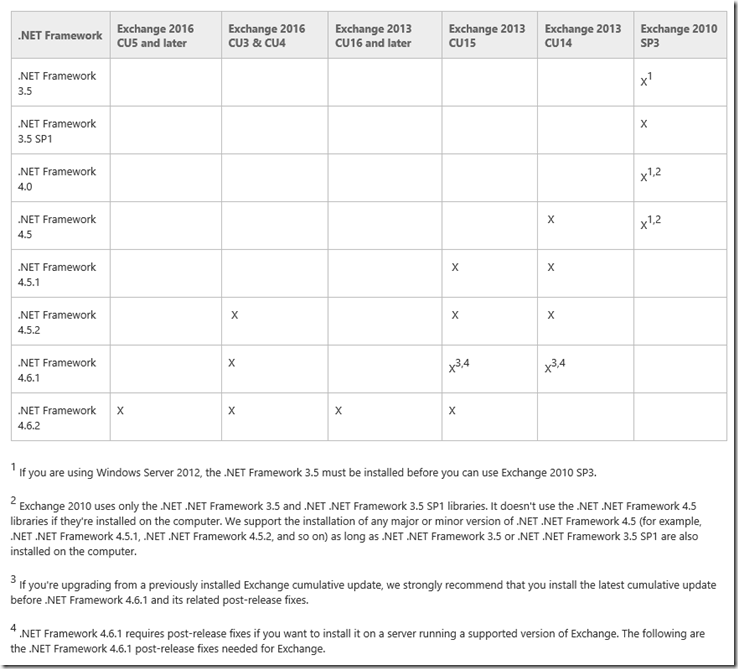 Quelle: Exchange Server Supportability Matrix
Da es in der Vergangenheit schon Probleme mit Updates von .NET Framework in Verbindung mit Exchange Server gegeben hat, sollte zurzeit .NET 4.7 nicht auf Exchange Servern installiert werden um Kompatibilitätsprobleme zu vermeiden. Der entsprechende Hinweis findet sich ebenfalls in der Matrix:

Der Support für .NET 4.7 wird sicherlich mit dem nächsten CU nachgeliefert, hier lohnt es sich also etwas Geduld zu haben. Bisher sind mir zwar keine Probleme bekannt, aber das soll ja nichts heißen.
Hier steht beschrieben, wie die installierte .NET Version ermittelt werden kann:
https://msdn.microsoft.com/en-us/library/hh925568(v=vs.110).aspx
Sollte .NET 4.7 bereit installiert sein, würde ich es derzeit deinstallieren, bis es offiziell freigegeben wird.
Update 27.06.2017: Bisher gibt es scheinbar keine Probleme mit .NET 4.7, es wird aber offiziell noch nicht unterstützt.