Vorwort
Ohne Office Online Server Integration kann das Word Dokument zwar runtergeladen werden, es lässt sich aber nicht direkt anzeigen: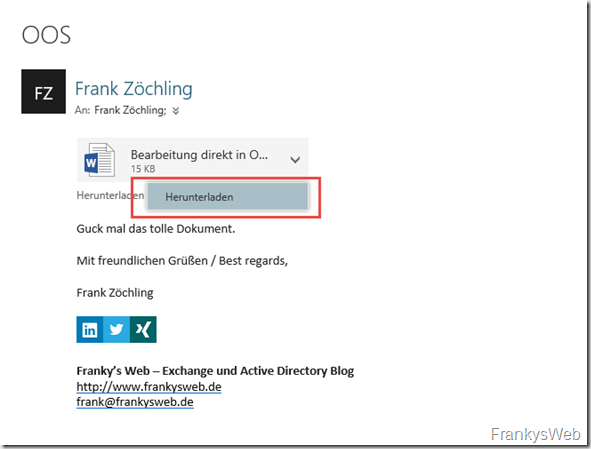 Installation
Unter Server 2012 R2 müssen zunächst die notwendigen Voraussetzungen installiert werden, am einfachsten wie immer mit der Powershell:
Install-WindowsFeature Web-Server,Web-Mgmt-Tools,Web-Mgmt-Console,Web-WebServer,Web-Common-Http,Web-Default-Doc,Web-Static-Content,Web-Performance,Web-Stat-Compression,Web-Dyn-Compression,Web-Security,Web-Filtering,Web-Windows-Auth,Web-App-Dev,Web-Net-Ext45,Web-Asp-Net45,Web-ISAPI-Ext,Web-ISAPI-Filter,Web-Includes,InkandHandwritingServices,Windows-Identity-Foundation


Desweiteres werden noch die folgenden Pakete benötigt:
.NET Framework 4.5.2 sollte auf einem vollständig aktualisierten Server bereits per Windows Update installiert worden sein. Alternativ kann es wie oben unter dem Link oben runtergeladen und manuell installiert werden.
Jetzt kann auch schon die Office Online Server Installation beginnen. Die Installation ist selbsterklärend: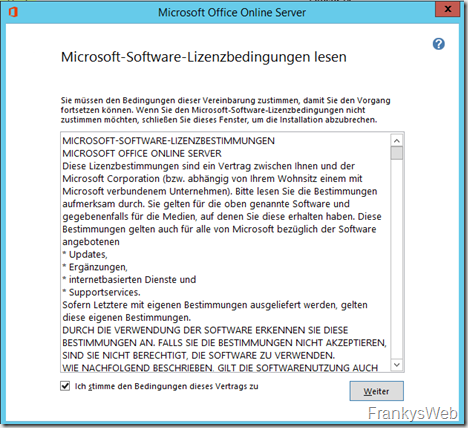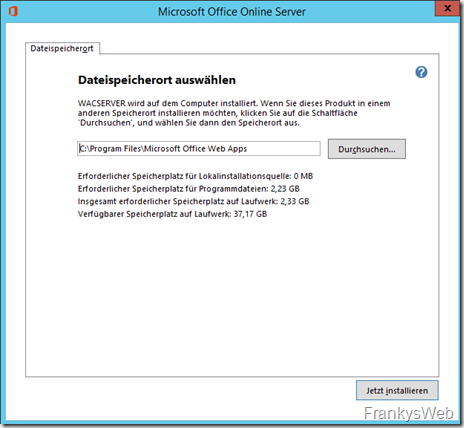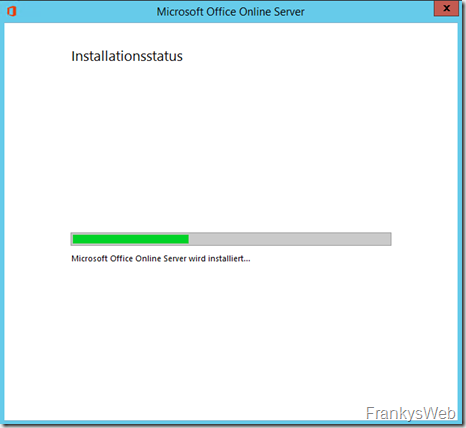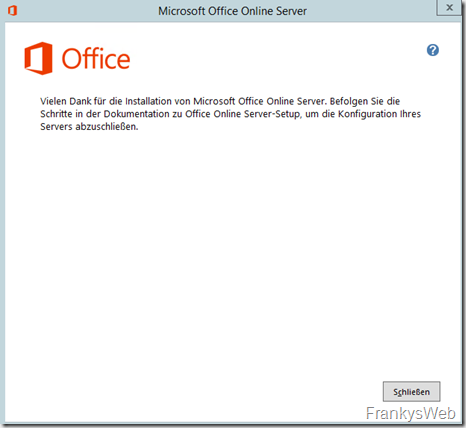 Die Installation ist nun abgeschlossen, weiter mit der Konfiguration.
Konfiguration von Office Online Server
Nach der erfolgreichen Installation on Office Online Server, wird zunächst ein Zertifikat für die neue Farm benötigt. In meinem Fall möchte ich die Farm unter office.frankysweb.de veröffentlichen, daher muss auf dem Zertifikat auch nur der entsprechende DNS-Eintrag konfiguriert werden. In diesem Fall hole ich mir ein Zertifikat von meiner Internen CA mit den folgenden Einstellungen: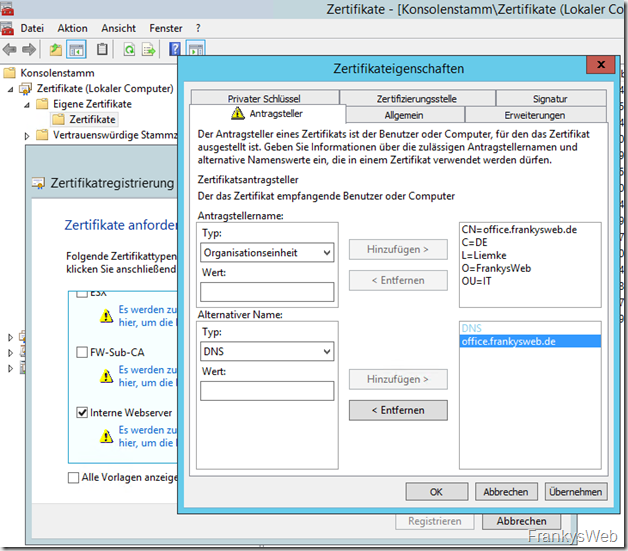 Wichtig ist an dieser Stelle der Anzeigename unter dem Reiter "Allgemein", er wird für die Konfiguration der Farm benötigt: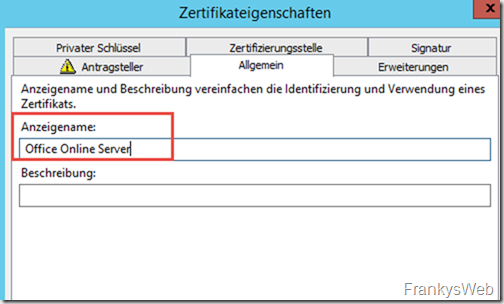 Natürlich kann auch ein Zertifikat von einer Öffentlichen CA verwendet werden. Wer ebenfalls eine interne CA verwenden möchte, kann sich weitestgehend an diesen Artikel halten:
Anstatt des Exchange Servers wird dann der Office Online Server auf der Vorlage berechtigt. Nachdem das Zertifikat ausgestellt wurde, kann die neue Farm erstellt werden:

Mit dem folgenden Befehl wird die Farm erstellt:
New-OfficeWebAppsFarm -InternalURL "https://office.frankysweb.de" -ExternalURL "https://office.frankysweb.de" -CertificateName "Office Online Server"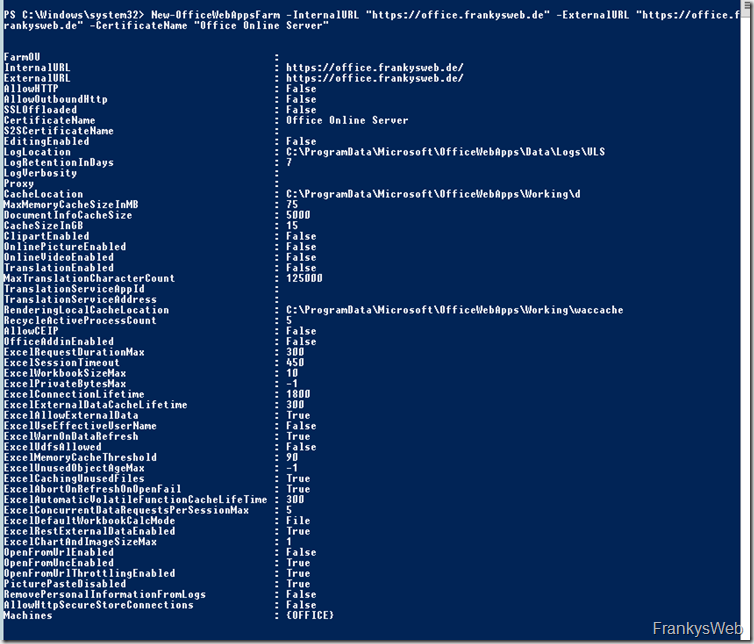 Interne und Externe URL sind in meinem Fall gleich. Hier empfiehlt es sich ebenfalls Split-DNS einzusetzen, sodass interne und externe Namen gleich sind.
Im IIS sollten jetzt zwei neue Websites erstellt worden sein, die Website mit dem Namen HTTP80 ist an das eben erstellte Zertifikat gebunden: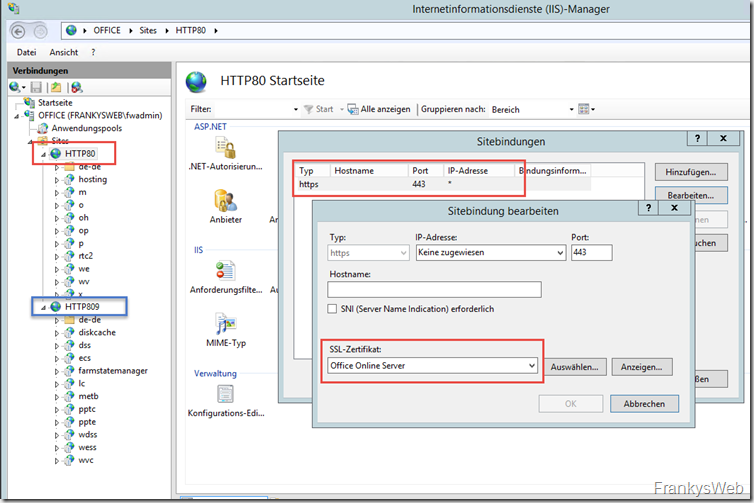 Ob alles bis hierher funktioniert hat, lässt sich testen in dem die Discovery Website aufgerufen wird: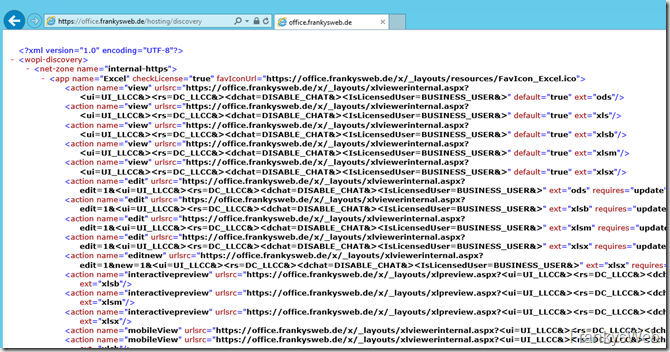 Wenn eine XML-Datei angezeigt wird, hat es funktioniert und Exchange kann konfiguriert werden:
Konfiguration Exchange 2016
Die Konfiguration von Exchange 2016 ist jetzt schnell erledigt. Mit dem folgenden Befehl wird Office Online Server mit Exchange 2016 verheiratet:
Set-OrganizationConfig -WacDiscoveryEndpoint "https://office.frankysweb.de/hosting/discovery"


Jetzt muss nur noch der Pool neugestartet werden, damit die Konfiguration wirksam ist:
Restart-WebAppPool MsExchangeOwaAppPool


In OWA (oder Outlook on the Web) ist jetzt bei Office Dokumenten neben der Schaltfläche "Herunterladen" auch "Anzeigen" verfügbar: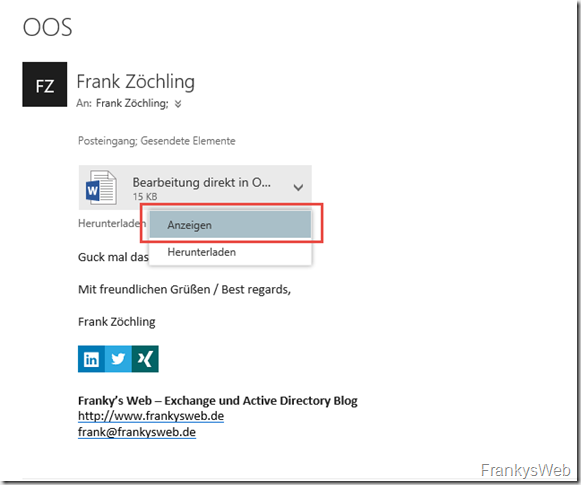 Mit einem Klick auf "Anzeigen" wird dann Word Online direkt in Outlook on the Web gestartet.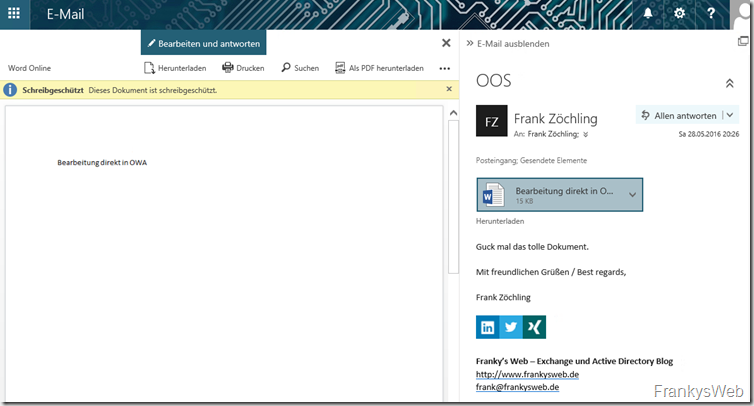 Das funktioniert intern wunderbar, aber noch nicht von extern. Von extern muss der Office Online Server per Port 443 (HTTPS) erreichbar sein.
Wer wie ich allerdings nur eine öffentliche IP hat und Port 443 bereits mit Exchange belegt hat, hat hier zwangsläufig ein Problem.Ob sich Office Online auch unter einem anderen Port ansprechen lässt, habe ich nicht ausprobiert. Aber wer glücklicher Besitzer einer Sophos UTM mit Webserver Protection Lizenz ist, kann hier neben Exchange auch weitere Dienste unter Port 443 anbieten.
In diesem Artikel habe ich es bereits für Exchange 2016 mittels Sophos UTM 9.4 beschrieben:
https://www.frankysweb.de/sophos-utm-9-4-waf-und-exchange-2016/
Das Zertifikat muss neben den Exchange Einträgen dann auch den Office Online Server Namen enthalten. In meinem Fall also die folgenden Namen:
mail.frankysweb.de
autodiscover.frankysweb.de
office.frankysweb.de
Die entsprechende Konfiguration für Office Online Server findet sich im folgenden:
Konfiguration Sophos UTM 9.4
Um Office Online Server via Sophos UTM Webserver Protection (WAF) freizugeben, wird zunächst ein Firewall Profil erstellt:

Folgende Filterregeln müssen übergangen werden:
950109
950120
981173
981176
981204
973302
973347
973335
973334

Jetzt muss ein Real Webserver angelegt werden: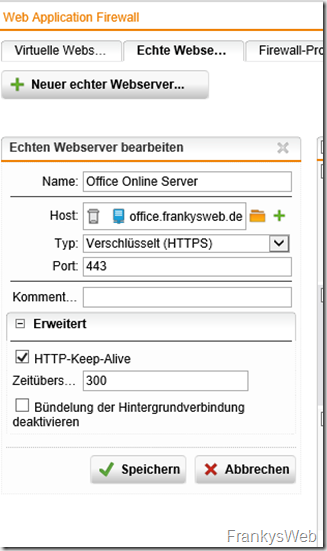 Und jetzt kann der Virtual Webserver angelegt werden: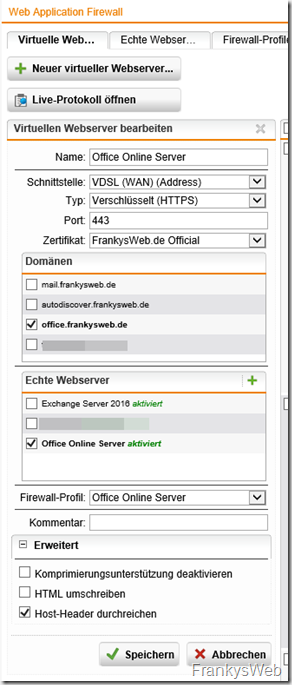 Im öffentlichen DNS muss jetzt noch ein entsprechender HOST-A Eintrag angelegt werden (in meinem Fall office.frankysweb.de mit der öffentlichen IP der UTM).