Die folgenden Fragen zum Noderunner Prozess bzw. Aussagen habe ich jetzt schon öfter in der ein oder anderen Form per Mail erhalten:
Noderunner.exe verbraucht fast den ganzen Arbeitsspeicher und hat fast immer 100 % CPU Last, was kann ich da machen?
Hier schon etwas verzweifelter:
Vom ersten Tag an hat der noderunner Ressourcen gefressen wir irre und ich weiß nicht warum.
Um ein bisschen Licht ins Dunkel zu bringen:
Noderunner.exe gehört zur Suchengine (FAST) von Exchange. Eingeführt wurde FAST mit Exchange 2013. Es handelt sich hierbei um die gleiche Suchengine die auch in SharePoint Server zum Einsatz kommt.
Im Normalfall verhält sich der Noderunner Prozess relativ ruhig. Hier zum Beispiel einmal ein aktueller Screenshot von meinem Exchange Server: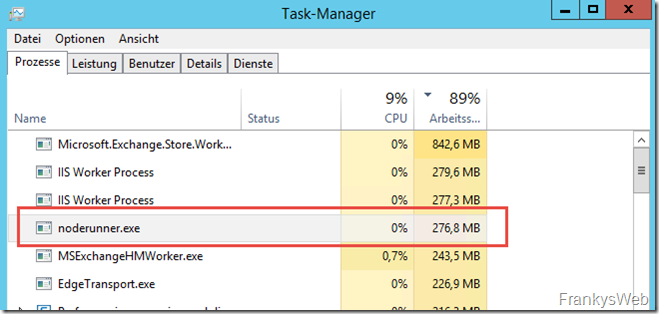 Allerdings gibt es Situationen, in denen der Noderunner Prozess aus dem Ruder läuft, die häufigste Ursache, die ich bisher gesehen habe, war ein oder mehrere defekte Suchindexe für die Postfachdatenbanken.
Der Status des Indexes lässt sich mit folgendem Befehl überprüfen:
Get-MailboxDatabaseCopyStatus


Falls der Index defekt ist, hilft es den Indes neu zu erstellen. Hier habe ich beschrieben, wie das funktioniert:
Allerdings muss der Index natürlich neu aufgebaut werden, wenn er wie im Artikel beschrieben gelöscht wurde. Die Fast Engine muss also wieder alle Mails / Elemente der Datenbank indexieren, was wiederum zu erhöhter Last führt.
Ebenfalls ist bei einer Exchange Migration mit erhöhter Last zu rechnen, wenn Postfächer in neue Datenbanken verschoben werden. Auch in diesem Fall wird der Index neu aufgebaut. Das CU3 für Exchange 2016 bringt hier einige Verbesserungen bezüglich des Indexes:
The local search instance reads data from a database copy on the local server, also known as "Read from Passive". As a result of this change, passive HA copy search instances no longer need to coordinate with their active counterparts in order to perform index updates.

Quelle: https://blogs.technet.microsoft.com/exchange/2016/09/20/released-september-2016-quarterly-exchange-updates/
Normalerweise ist die Fast Engine mit dem Indexieren eine ganze Weile beschäftigt, die Zeit die benötigt wird, hängt von der Größe der Datenbank und der darin enthaltenen Postfächer und Mails / Elemente ab. Geduld ist hier eine Tugend. Irgendwann ist der Index aufgebaut und der Noderunner Prozess bewegt sich wieder in geregelten Bahnen.
Bei knapp bemessenen Systemen kann Noderunner allerdings deutlich auf die Exchange Performance drücken, in diesem Fall lässt sich der Arbeitsspeicher für den Prozess begrenzen. In der folgenden CONFIG-Datei lässt sich der Maximalwert für Noderunner festlegen:
%ExchangeInstallPath%Bin\Search\Ceres\Runtime\1.0\noderunner.exe.config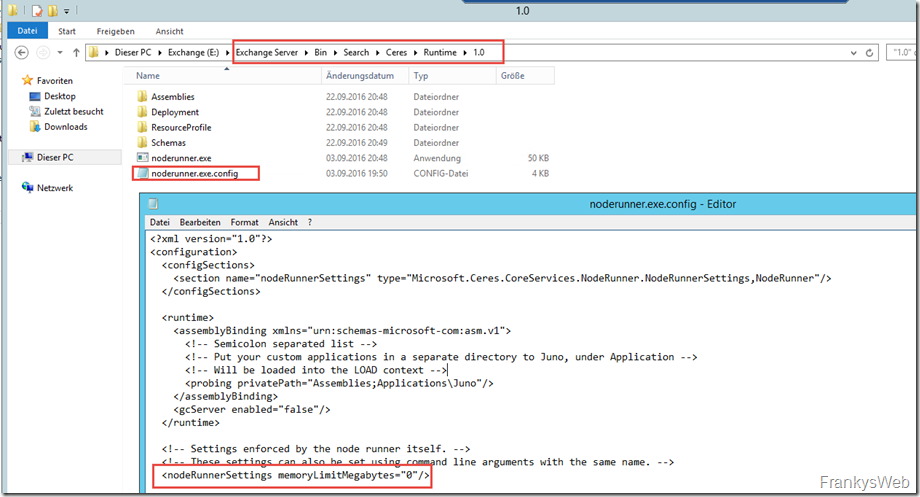 Hier kann ein entsprechender Wert in MB eingetragen werden. Dieser Wert gilt pro Noderunner Prozess. Zu wenig Arbeitsspeicher ist hier allerdings nicht sinnvoll, man kann sich vorstellen warum.