Dieser kleine Artikel soll die häufigsten Ursachen für Probleme mit der Outlook Verbindung mit Exchange während der Migration auflisten. Häufig kommt es zu Verbindungsproblemen nachdem ein Postfach auf eine neuere Exchange Version verschoben wurde. Outlook bringt dann gerne eine der folgenden Meldungen:
Der Microsoft Exchange-Administrator hat eine Änderung durchgeführt, die einen Neustart von Outlook erfordert.
Diese Meldung kann hei jedem Outlook Start auftreten, eine Verbindung zum Postfach ist dann nicht mehr möglich: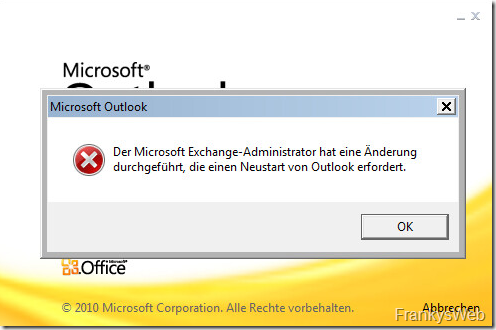 Die Aktion kann nicht abgeschlossen werden. Es steht keine Verbindung mit Microsoft Exchange zur Verfügung. Outlook muss im Onlinemoduls oder verbunden sein, um diesen Vorgang abzuschließen
Diese Meldung tritt beim Einrichten neuer Profile auf, das Einrichten des Profils ist nicht möglich: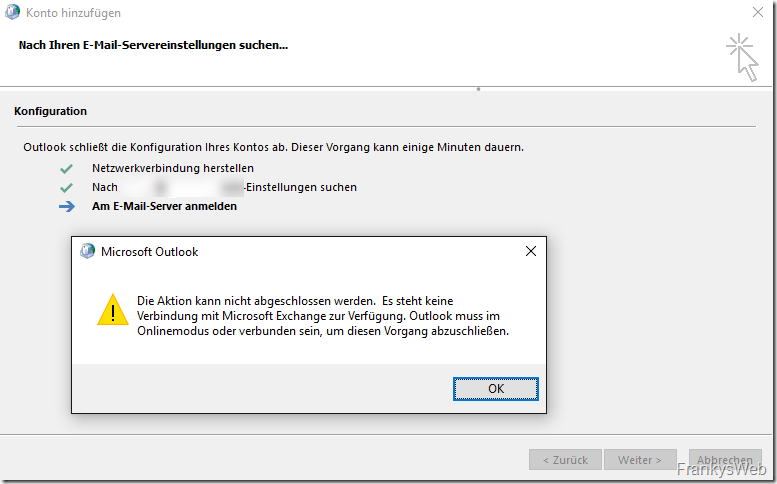 Oder auch einfach diese Meldung von Outlook 2019:
Da hat etwas nicht geklappt.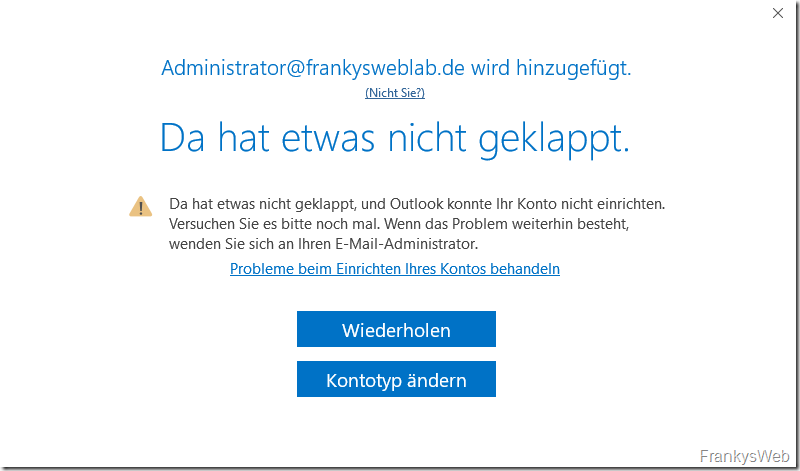 Ich würde in diesem Artikel gerne die häufigsten Ursachen sammeln, gerne nehme ich weitere Ursachen / Probleme per Mail oder als Kommentar entgegen und werde diesen Artikel dann aktualisieren.
Autodiscover und DNS
Nachdem die neuen Exchange Server installiert und konfiguriert wurden, müssen die DNS-Einträge für Autodiscover auf die neuen Exchange Server verweisen. Hier kommt es oft zu Problemen, wenn ein Postfach zu neuen Exchange Servern verschoben wird, die Autodiscover DNS Einträge aber noch auf die alten Server verweisen. Hier ein Beispiel, welches bei der Migration von Exchange 2010 zu Exchange 2016 auftreten kann (aber auch bei anderen Versionen):
In diesem Fall zeigt der HOST-A Record autodiscover.frankysweblab.de auf die IP 192.168.200.14, welches die IP des Exchange Servers EX1 ist (rot). In diesem Fall ist EX2 der Exchange Server mit der neueren Version (blau):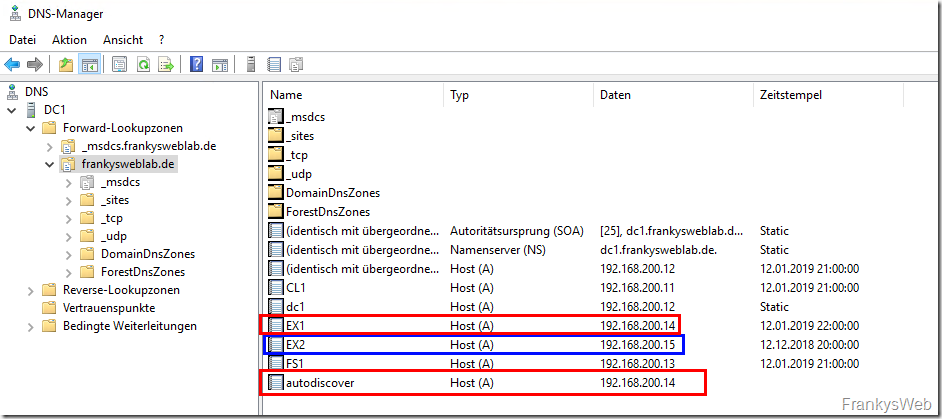 Der DNS-Eintrag für Autodiscover muss hier also auf den neuen Exchange Server verweisen: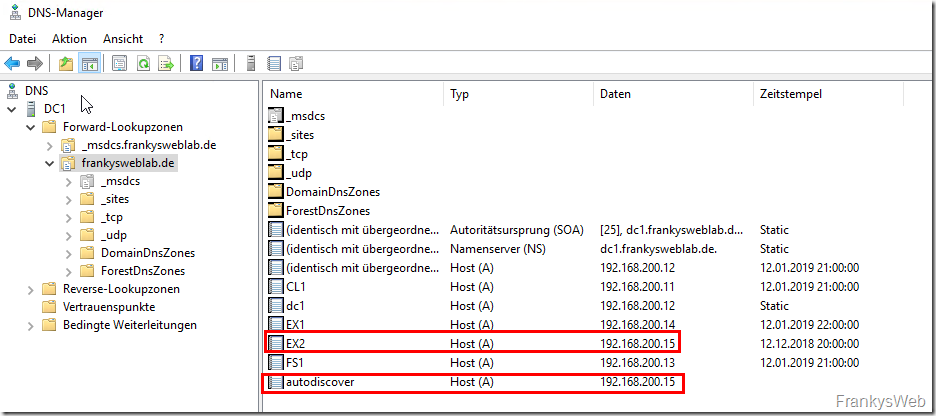 Gleiches gilt auch für die SRV-Records (wenn existent):

Auch SRV-Records müssen auf den Exchange Server mit der neueren Version zeigen. In diesem Beispiel wurde also die IP für den HOST-A autodisocver.frankysweblab.de auf 192.168.200.15 (IP neuer Exchange Server) und der SRV-Record auf den Host autodiscover.frankysweblab.de geändert. Somit verweist Autodiscover auf die Exchange Version zu der migriert werden soll:

Hier gilt es auch an die externen DNS Einträge zu denken.
Outlook 2010 und MAPIoverHTTP
In vielen Unternehmen ist noch Outlook 2010 im Einsatz. Mit Exchange 2013 wurde das Protokoll MAPIoverHTTP eingeführt welches RPCoverHTTP ersetzt. Auch wenn RPCoverHTTP noch unterstützt wird, gibt es mit aktivierten MAPIoverHTTP meistens Probleme mit Outlook 2010.
Outlook 2010 unterstützt MAPIoverHTTP erst mit einem Update (KB2965295), dieses Update erfordert das Service Pack 2 für Office 2010. Damit MAPIoverHTTP mit Outlook 2010 funktioniert, muss also das Service Pack 2 für Office und das KB2965295 installiert sein.
Hier einmal die entsprechenden Download Links:
Die Updates sollten also vor dem Verschieben der Postfächer installiert werden, damit Outlook 2010 eine Verbindung zu Exchange 2013/2016 mit aktivierten MAPIoverHTTP herstellen kann.
Für Outlook 2013 und höher sind keine speziellen Updates nötig, jedoch sollten diese natürlich auch auf einem aktuellen Stand sein.
Autodiscover Redirects
Ein weiteres Problem sind die Autodiscover Redirects der Exchange Server, auch hier kann es zu Verbindungsproblemen mit Outlook kommen:
After the mailbox move is completed, Exchange Server 2013 or 2016 continues to proxy the autodiscover request to Exchange Server 2010. Exchange Server 2010 responds with a 302 redirect back to Exchange Server 2013 or 2016 (depending on the upgrade).
Dieses Problem ist in dem folgenden Microsoft Artikel beschrieben:
Das manuelle Neustarten des Application Pools ist aber meist keine Lösung, gerade wenn viele Postfächer über einen längeren Zeitraum verschoben werden. Hier kann man sich mit einem Neustartintervall des Application Pools behelfen. Im IIS-Manager lässt sich ein Neustartintervall für den "MSExchangeAutodiscoverAppPool" festlegen: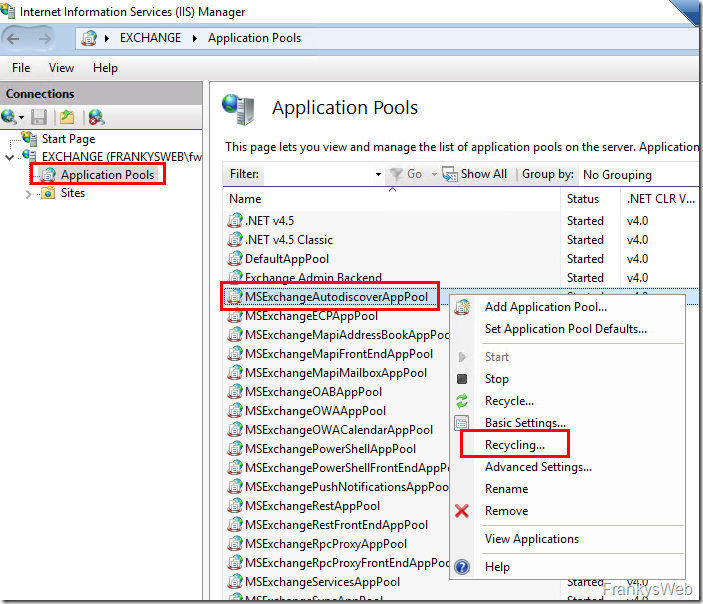 Mit einem Neustart Intervall von 5 Minuten, bleibt ein Postfach also nur maximal 5 Minuten getrennt und es muss kein manueller Neustart des Application Pools durchgeführt werden: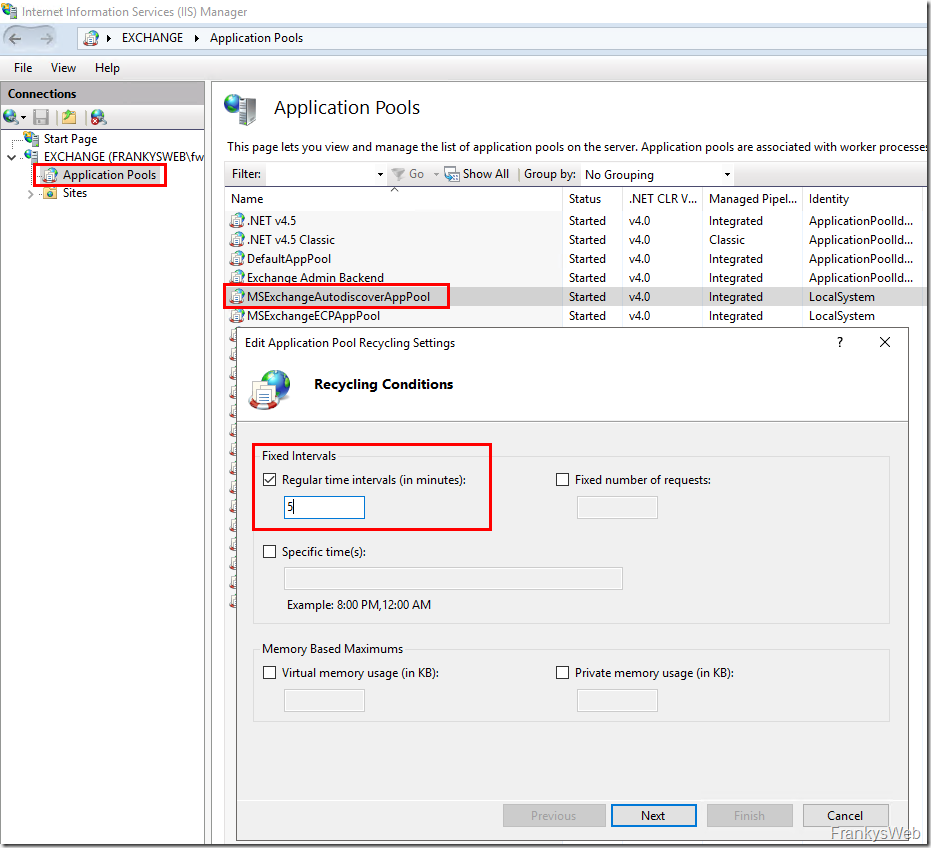 Nachdem alle Postfächer verschoben wurden, kann diese Einstellung wieder rückgängig gemacht werden.
Exchange URLs
Auch falsch konfigurierte URLs für die virtuellen Verzeichnisse im des Exchange Servers können Verbindungsprobleme mit Outlook verursachen. Beispielsweise können Tippfehler in den URLs zu einer fehlerhaften Namensauslösung führen und damit die Verbindung von Outlook zu Exchange stören.
Die Konfiguration der virtuellen Verzeichnisse ist hier beschrieben:
Die Hostnamen in den URLs müssen via DNS entsprechend auflösbar sein. Die Virtuellen Verzeichnisse können auch in der EAC verwaltet werden: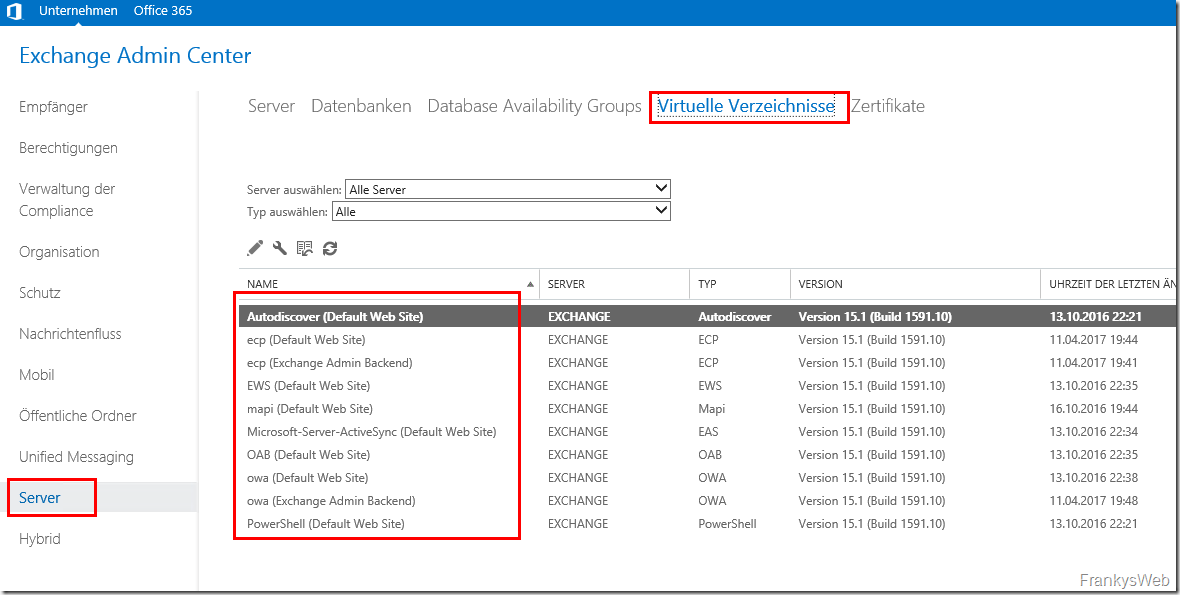 Der Hostname für Outlook Anywhere findet sich hier: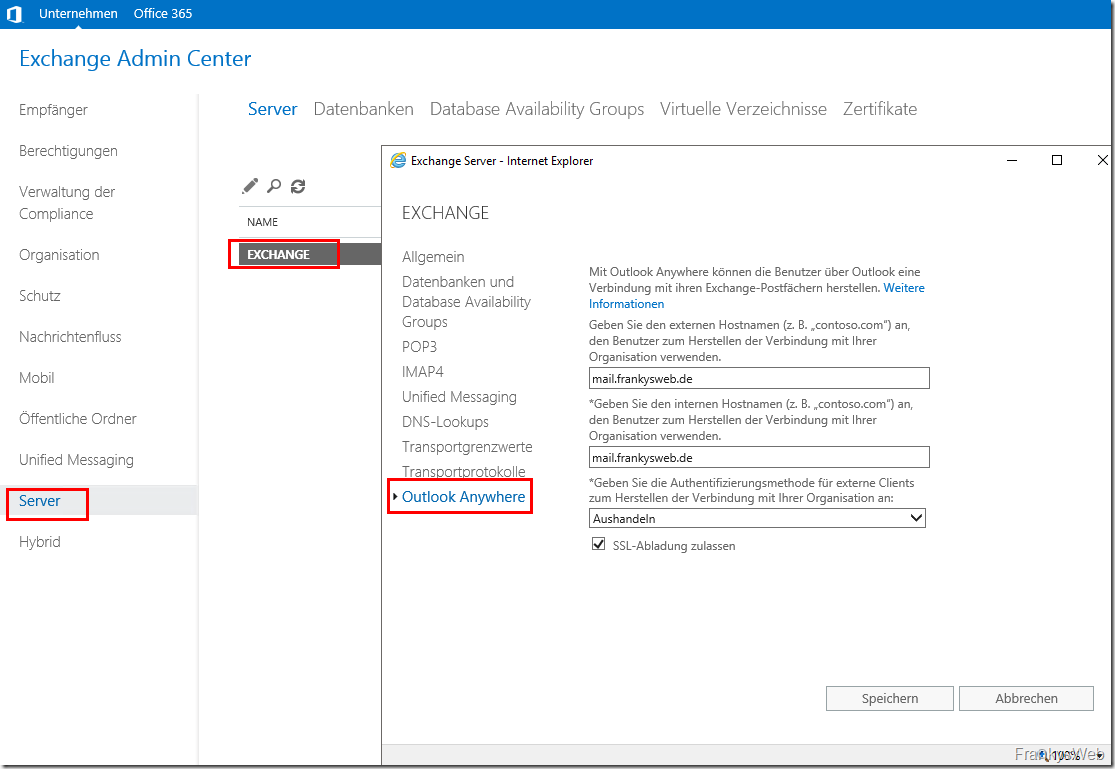 Die URL für Autodiscover kann allerdings nur über die Exchange Management Shell verwaltet werden:
Get-ClientAccessService | fl name,autodiscover*
Set-ClientAccessService -Identity EXCHANGE -AutoDiscoverServiceInternalUri "https://autodiscover.frankysweb.de/Autodiscover/Autodiscover.xml"


Mit dem Befehl "Set-ClientAccessService" lässt sich die URL entsprechend anpassen.