Eine nette Leserin fragte mich, ob ich eine Möglichkeit kenne, das MAPIoverHTTP Protokoll für Exchange 2016 zurückzusetzen bzw. neu zu installieren. Es gibt zwar Möglichkeiten MAIPoverHTTP zu reseten, jedoch ist fraglich ob das in diesem Fall geholfen hätte. Hier also eine kleine Geschichte zum Thema Kompatibilität von Trend Micro Worry Free(!?) 9 und Exchange 2016. Silke hat mich freundlicherweise erlaubt die Informationen hier zu veröffentlichen, damit nicht mehr Admins in diesen Problem laufen. Danke Silke!
Hier also die Mail von Silke:
Kurzversion
Bei der  Installation des Messaging Server Agents aus der Trend Micro Worry Free Business Security 9.0 SP2 auf einem Windows Server 2012 R2 mit Exchange 2016 wird MAPI irreparabel zerstört.
Langversion
Ich schlage demnächst an der 75er Grenze meines SBS 2011 Premium (Server 2008 R2 mit Exchange 2010 und dezidiertem SQL-Server) an, und abgesehen davon muss das Teil jetzt auch endlich mal raus. Also ziehe ich das gesamte System auf mehrere Server 2012 R2 und die entsprechenden aktuellen Versionen von Exchange und SQL um. Server und SQL sind fertig, jetzt ist gerade Exchange dran.
Ich habe also Windows Server 2012 R2 auf einer neuen Maschine installiert, in die Domain eingebunden und auf dem blütenweißen Server Exchange 2016 installiert. Dann habe ich das Teil komplett konfiguriert, getestet und die User umgezogen. Alles gut, Zugriff über Outlook, OWA und ECP problemlos.
Bevor ich den Empfang auf den neuen Server umhänge, sollte da noch ein Virenscanner drauf… dachte ich mir <räusper>. Im System läuft Trend Micro Worry Free Business Security (TM WFBS) 9.0 (aktuelles Patchlevel).. WFBS hat außer den Security Agents für die Desktops und Server auch einen Messaging Security Agent für Exchange Server. Der wird installiert, indem der neue Exchange der Verwaltungskonsole der WFBS hinzugefügt wird.
Sofort nach der Installation konnten sich meine Outlook-Clients (2010 und 2016) nicht mehr verbinden. Ein neues Profil scheiterte daran, dass der Exchange angeblich nicht mehr erreichbar war,  OWA und ECP funktionierten weiter problemlos. Also habe ich erst mal alle betroffenen User mit OWA vertraut gemacht und dann Trend Micro und MS kontaktiert.
Hier mal die relevanten Antworten:
Antwort Trend Micro
Dear User
First of all, let me just provide you this information. Upon checking, looks like the Messaging Security Agent is not compatible with Exchange 2016. I believe that's why the Exchange 2016 configuration was broken or not working anymore. Unfortunately, here's the only possible solution that I can think of for this concern.
Make sure there are no more remnants of the MSA on the machine:
Refer to this helpful article for manual removal.
http://esupport.trendmicro.com/solution/en-US/1096694.aspx
Once done, you can try to check out this article from Microsoft on how to configure the MAPI over HTTP as they've mentioned to you.
https://technet.microsoft.com/en-us/library/mt634322(v=exchg.160).aspx
To tell you the truth, I'm not really familiar with this function itself from Microsoft so if you need assistance on this, you can refer to them instead.
Lastly, if all else fails, I believe we might resort to the re-installation of the Exchange as the Microsoft support suggested.
*Additional note: If you want protection for your Exchange 2016, you can try our Scanmail for Exchange (SMEX) instead.
Hope this answers your concern.
Let us know the results.
Thank you and have a good day!
Antwort Microsoft
This is a known issue which can be reproduced on Exchange 2016 Servers.
The installation of the TrendMicro application breaks the MAPI over HTTP protocol on the Exchange 2016 servers.
The only known workaround to the Problem is an installation of a new Exchange 2016 server.
The problem arises because of the use of a third party Application and is thus not supported from Microsoft perspective.
Ende
An dieser Stelle wurde dann auch nicht mehr versucht, MAPIoverHTTP wieder zum Leben zu erwecken. Wer weiß schon, was für faule Eier man sich noch ins Nest gelegt hat. Die Neuinstallation ist hier wahrscheinlich der einfachere Weg. Auf der Trend Micro Website habe ich keine Informationen gefunden, das Worry Free (netter Name in diesem Zusammenhang) schon kompatibel mit Exchange 2016 ist. Im Handbuch der Systemvoraussetzungen wird nur Exchange 2013 genannt, aber das scheint auch schon länger nicht mehr gepflegt zu werden, denn das SP für Exchange 2013 wird noch mit N/A angegeben: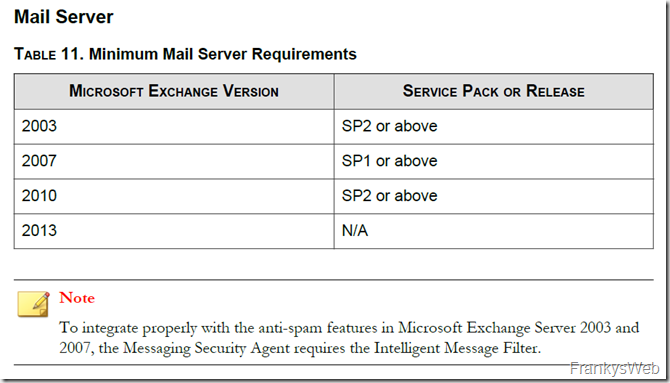 Gerade Virenscanner verursachen immer wieder Probleme auf Exchange Servern, hier muss also die Kompatibilität unbedingt vorher sichergestellt werden. Auch die entsprechenden Ausschlüsse müssen konfiguriert werden:
https://technet.microsoft.com/en-us/library/bb332342(v=exchg.160).aspx
Falls Ihr auch solche Geschichten kennt, könnt ihr sie mir gerne zusenden. Ich finde es immer hilfreich von solchen Problemen im Vorfeld gehört zu haben :-)
Vielen Dank an dieser Stelle noch einmal an Silke, die der Veröffentlichung zugestimmt hat.
Ich gehe sogar soweit zu behaupten, dass auf Exchange Servern kein Virenscanner installiert werden muss, sondern ein etwas anderes Konzept zu mehr Erfolg und weniger Problemen führt: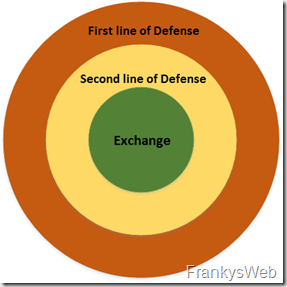 Wie seht ihr das? Meinungen dazu gerne in die Kommentare schreiben.