Das September Update KB445127 für Windows Server 2016 vom 20.09.2018 sorgt auf Domain Controllern für Probleme in Verbindung mit der Exchange GAL (Globale Adressliste). Nachdem das Update auf Windows Server 2016 Domain Controllern installiert wurde, können Outlook Clients nicht mehr die Globale Adressliste aufrufen: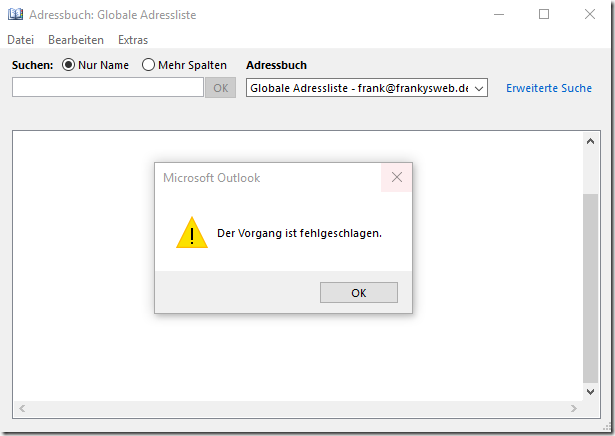 Ich konnte dieses Problem ebenfalls nachvollziehen, sobald mehr als 18 Empfänger in einer Adressliste sind, kann Outlook die Adressliste nicht mehr anzeigen.
Auf dem Exchange Server findet sich dazu folgender Fehler im Ereignisprotokoll: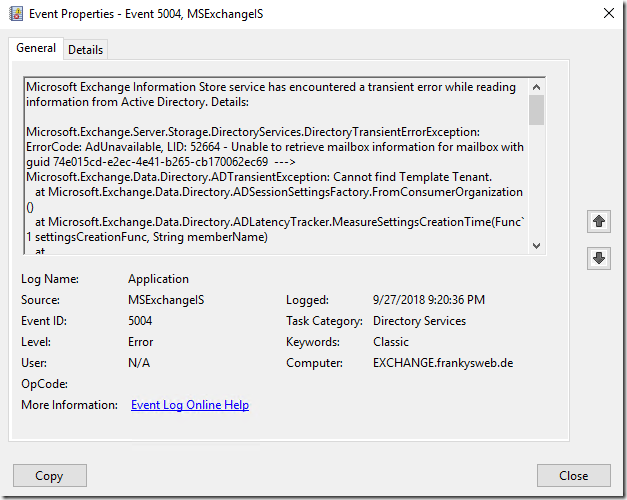 EventID:5004

Quelle: MSExchangeIS

Microsoft Exchange Information Store service has encountered a transient error while reading information from Active Directory. Details:

Microsoft.Exchange.Server.Storage.DirectoryServices.DirectoryTransientErrorException: ErrorCode: AdUnavailable, LID: 52664 – Unable to retrieve mailbox information for mailbox with guid 04c826d7-adce-44d1-8d44-8e50ccbb07c3  —> Microsoft.Exchange.Data.Directory.ADTransientException: Cannot find Template Tenant.
Ob die oben genannte Fehlermeldung direkt mit dem KB4457127 in Zusammenhang steht, kann ich nicht zweifelsfrei sagen, zumindest ist das Event bei mir nicht vor der Installation des Updates aufgetreten:

Bisher habe ich keine andere Lösung gefunden, als das Update wieder von den Domain Controllern zu deinstallieren:
2018-09 Cumulative Update for Windows Server 2016 for x64-based Systems (KB4457127)


Das Update habe ich nur von den Domain Controller deinstalliert, auf den Exchange Servern scheint das Update keine Probleme zu bereiten. Nach der Deinstallation von KB4457127 lässt sich die GAL wieder öffnen.
Zur Vorsicht sollten die Adresslisten einmal manuell aktualisiert werden, wenn die Umgebung dies zulässt:
Get-AddressList | Update-AddressList
Get-GlobalAddressList | Update-GlobalAddressList
Get-OfflineAddressBook | Update-OfflineAddressBook

Vielen Dank an Michael für den Hinweis auf dieses Problem.