Eine neue Exchange Server Version wurde bereits auf der Ignite in Orlando angekündigt, aber auch Office wird 2018 in einer neuen Version vorliegen. Meist wird Office sogar noch etwas früher als Exchange 2019 freigegeben. Damit dürften nächstes Jahr ein paar größere Migrationsprojekte starten.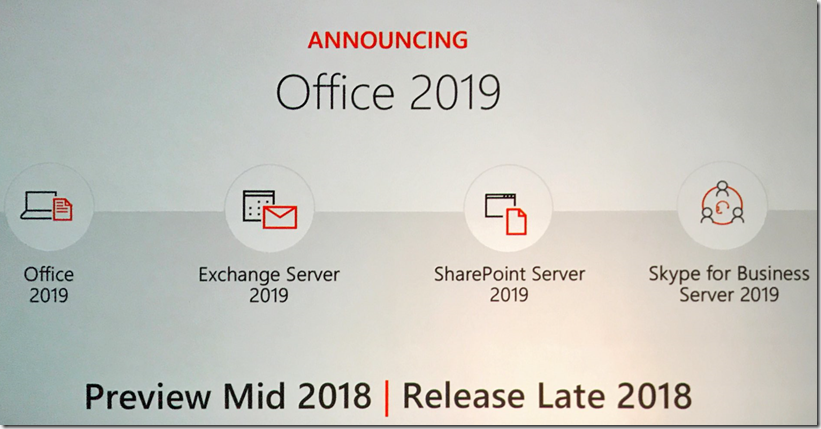 Today, at Microsoft Ignite in Orlando, we announced Office 2019—the next perpetual update for Office. This release, scheduled for the second half of 2018, will include perpetual versions of the Office apps (including Word, Excel, PowerPoint, and Outlook) and servers (including Exchange, SharePoint, and Skype for Business). Previews of the new products will start shipping mid-year 2018.
Wenn Microsoft der bisherigen Strategie weiter folgt, dann wird keine direkte Migration von Exchange 2010 zu Exchange 2019 möglich sein. Unterstützte Outlook Versionen werden voraussichtlich Outlook 2013, Outlook 2016 und Outlook 2019 sein.
Exchange 2013 und Exchange 2016 werden sich ohne Umweg zu Exchange 2019 migrieren lassen. Wer noch Exchange 2010 einsetzt, wird vorher einen Zwischenmigration zu Exchange 2016 oder Exchange 2013 durchführen müssen, wenn auf Exchange 2019 aktualisiert werden soll.
Es bleibt allerdings abzuwarten, ob nicht doch noch Outlook 2010 mit Exchange 2019 funktionieren wird, (Supported wird es wohl nicht werden). Sollte es keine signifikanten Änderungen an MAPIoverHTTP geben, könnte es klappen. Ich würde mich darauf allerdings nicht verlassen, denn bisher war die Regel immer "2 + VNext", was so viel bedeutet wie "Zwei Vorversionen (Outlook 2013/2016 und die neuste Version (Outlook 2019).
Welche Neuerungen es in die nächste Exchange Server Version schaffen werden, ist mir derzeit noch unbekannt. Wenn da schon jemand Informationen hat, kann er sie gerne in den Kommentaren hinterlassen.