Die Abwesenheitsbenachrichtigungen verwalten die meisten Benutzer selbst via Outlook. Vor einer geplanten Abwesenheit, wie etwa Urlaub, stellt der Benutzer seine gewünschte Nachricht ein und legt ggf. noch einen Stellvertreter fest. Zusätzlich soll auch meist das Helpdesk oder der Vorgesetzte eines Benutzers eine Abwesenheitsnotiz für Benutzer eintragen dürfen, dies ist meist für eine ungeplante Abwesenheit sinnvoll, etwa im Krankheitsfall.
Wie das Unternehmen die Abwesenheitsbenachrichtigungen umsetzt, ist meist ganz verschieden. Manche setzen auf PowerShell Scripte, manche nutzen einen Identity Manager mit Genehmigungsprozessen. Es gibt da diverse Wege, wie man ans Ziel kommen kann.
Einer dieser Wege ist das kostenlose Tool "Out of Office Manager" von CodeTwo. Der Out of Office Manager eignet sich dabei für kleinere Unternehmen oder für das Helpdesk besonders gut.
Da ich nun schon einige Anfragen bezüglich Scripten und Ähnlichem hatte, möchte ich das Tool kurz vorstellen. Die Nutzung ist wie bereits erwähnt kostenlos und die Installation ist mit wenigen Klicks erledigt.
Für diesen kleinen Artikel habe ich den "Out of Office Manager" auf einen Client-PC installiert (so wie es meist auch im HelpDesk gemacht wird).
Nach der Installation erfolgt eine kurze Konfiguration der Verbindung zum on-Prem Exchange Server oder zu Office 365: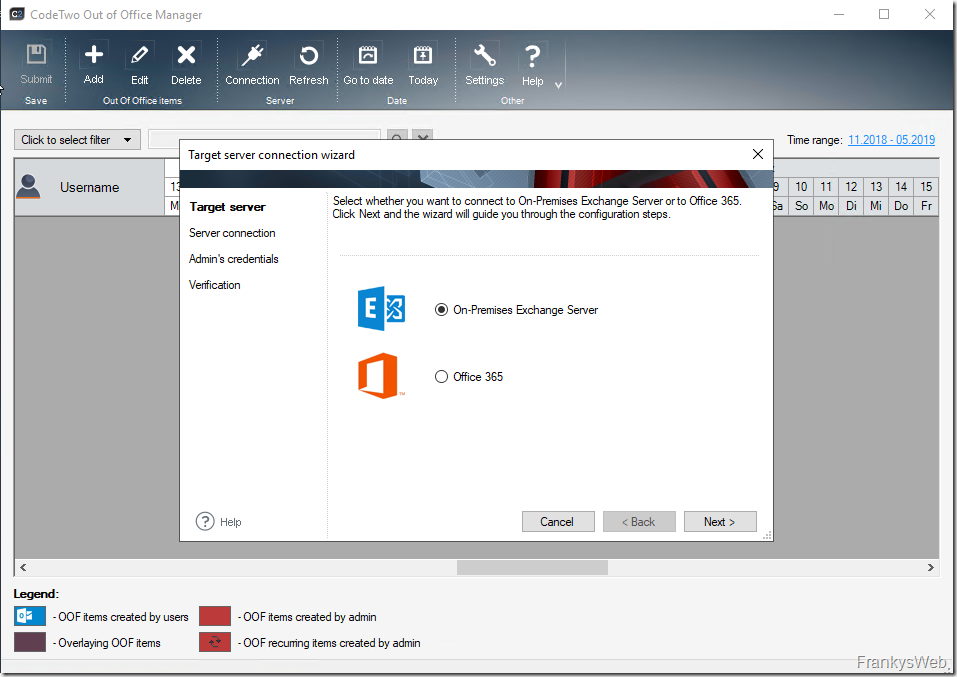 Die Verbindung kann entweder direkt mit Autodiscover oder manuell konfiguriert werden: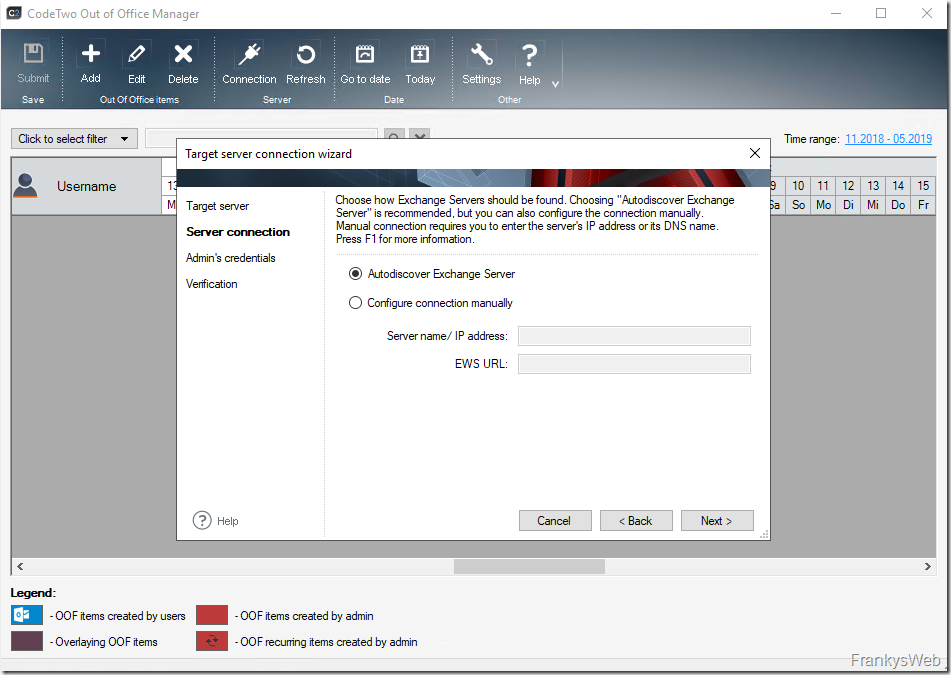 Für das Erstellen von Abwesenheitsnachrichten ist ein Benutzer mit entsprechenden Rechten erforderlich. Damit hier nicht ein Admin Benutzer angegeben werden muss, kann ein separates Konto mit Impersonationsberechtigung erstellt werden.
Hier gibt es dazu eine entsprechende Anleitung:
Create RBAC-compliant account for CodeTwo Software
Ich habe dazu das Konto "OOOManager" erstellt: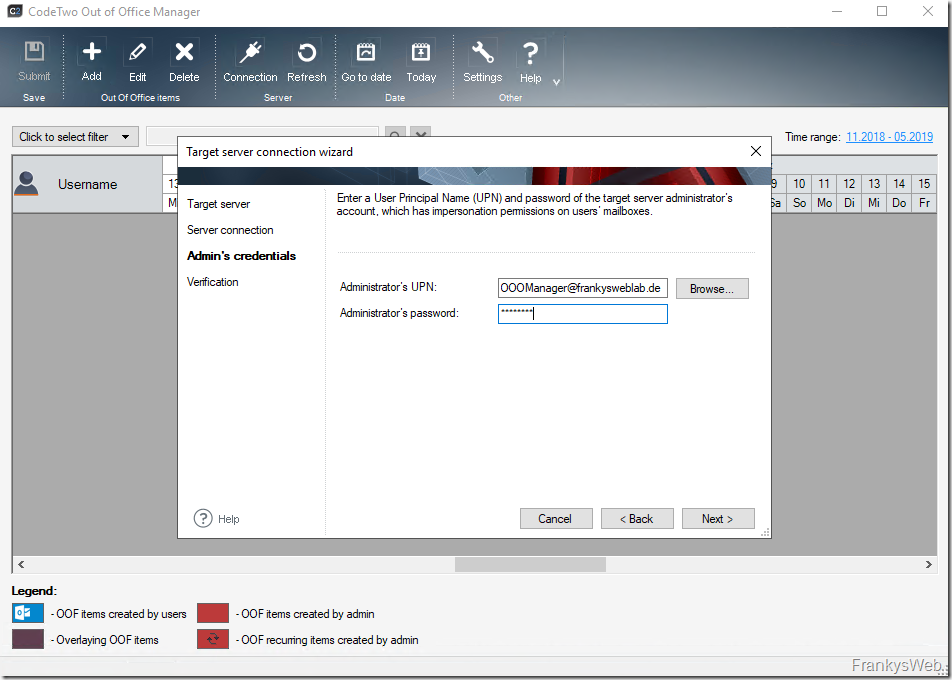 Im letzten Schritt kann die Verbindung zu Exchange / Office 365 getestet werden: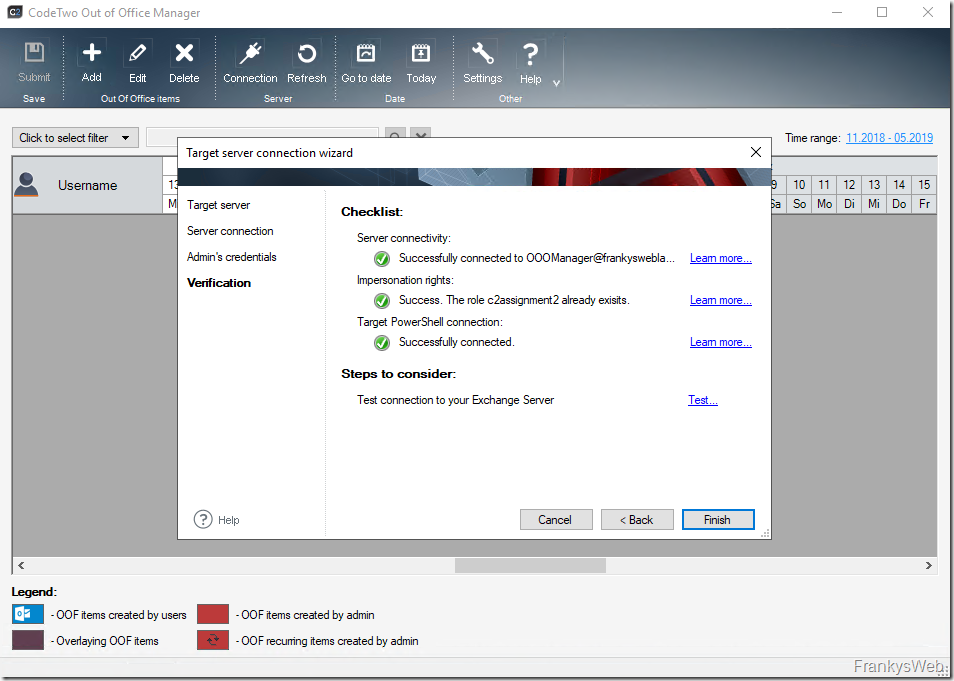 Nach er Konfiguration können die Abwesenheitsbenachrichtigungen übersichtlich verwaltet werden.
In meinem Fall werden hier auch die Health Postfächer des Exchange Servers angezeigt, da ich für das Konto OOFManager keinen entsprechenden Scope angegeben habe: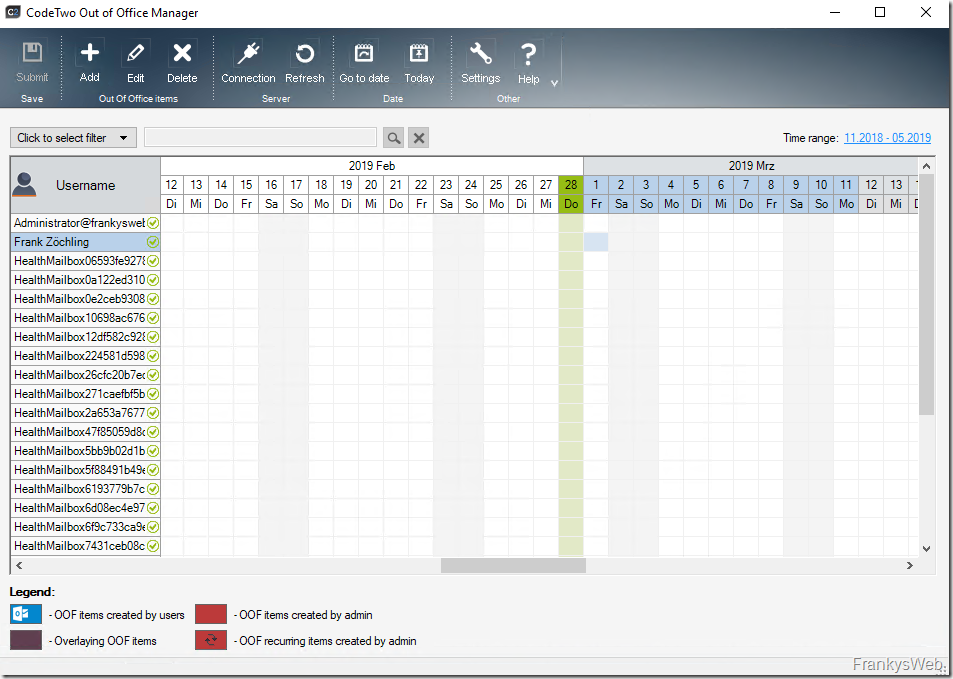 Durch markieren des entsprechenden Bereichs und der Schaltfläche "Add" kann nun die Abwesenheitsbenachrichtigung erstellt werden. Dabei lassen sich wie hier zu sehen, vorgefertigte oder auch eigene Templates verwenden. Dynamische Daten wie "Start", "Ende", "Vor/Nachname", "Abteilung" und viele weitere Daten lassen sich aus dem Active Directory auslesen und innerhalb des Templates verwenden. Hier mal ein einfaches Template: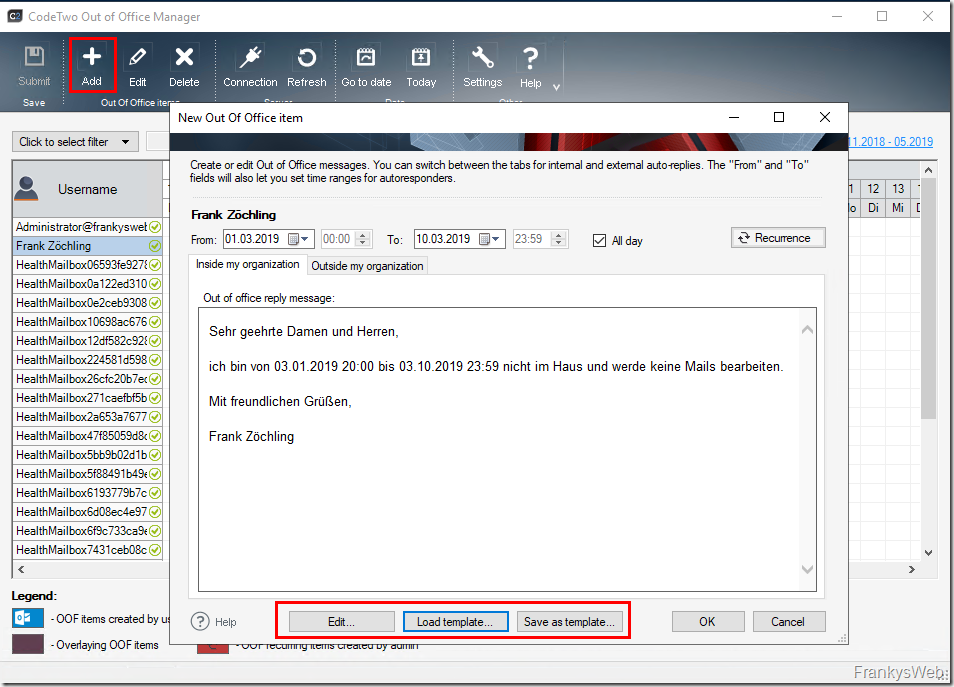 Mit der Option "Recurrence" können Abwesenheitsnachrichten wiederkehrend eingetragen werden (sinnvoll zum Beispiel bei Teilzeitkräften):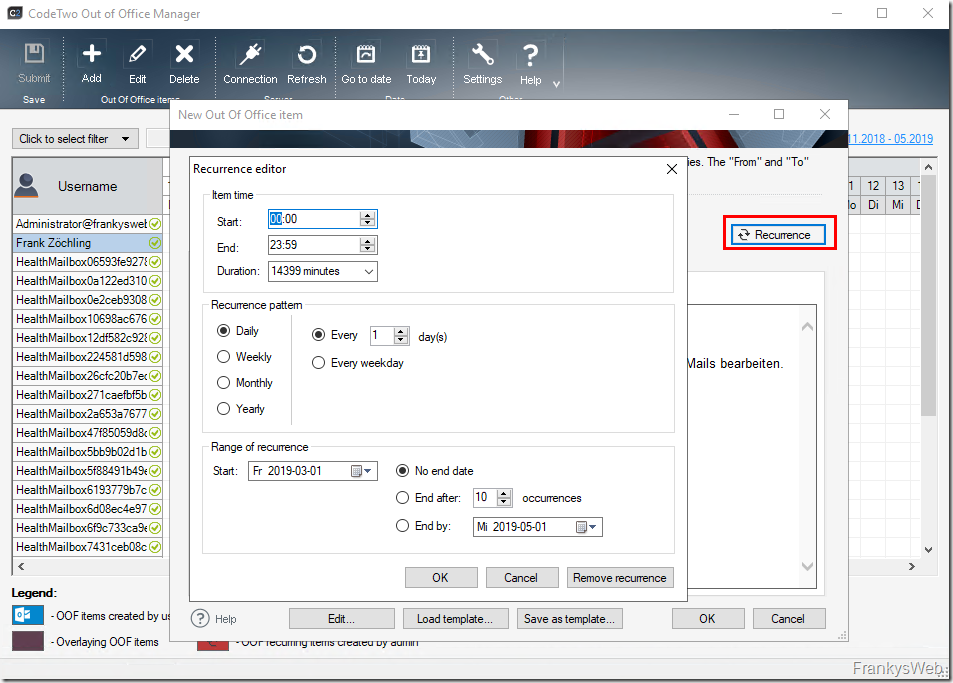 Die Vorlagen können mit dem "Template Editor" erstellt werden, dabei lassen sich auch diverse Variablen nutzen: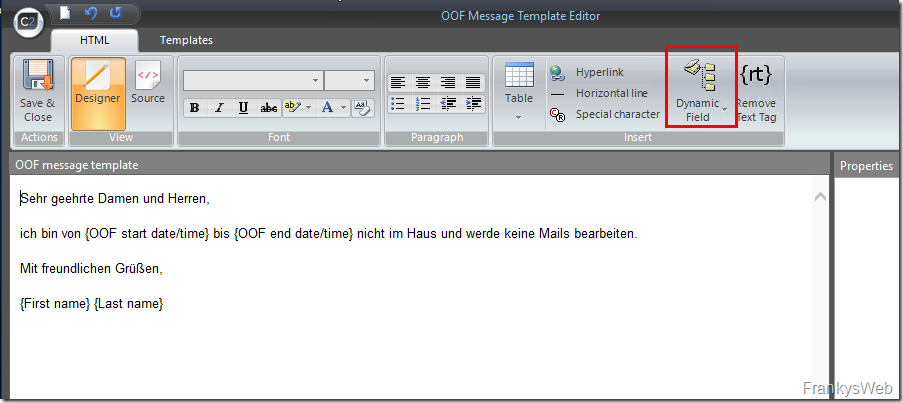 In den Einstellungen lässt sich außerdem festlegen, wie oft eine Benachrichtigung an den Absender geschickt werden soll. In der Standardeinstellung verschickt Exchange eine Benachrichtigung je Absender binnen 24 Stunden. Mit dem Out of Office Manger lassen sich auch andere Intervalle einstellen: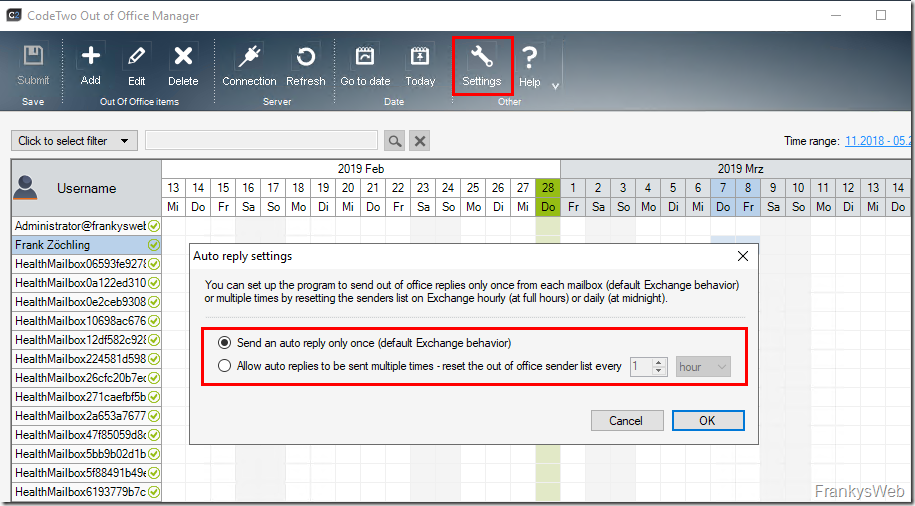 Nachdem ein Eintrag gespeichert wurde, wird die Dauer der Abwesenheit übersichtlich dargestellt: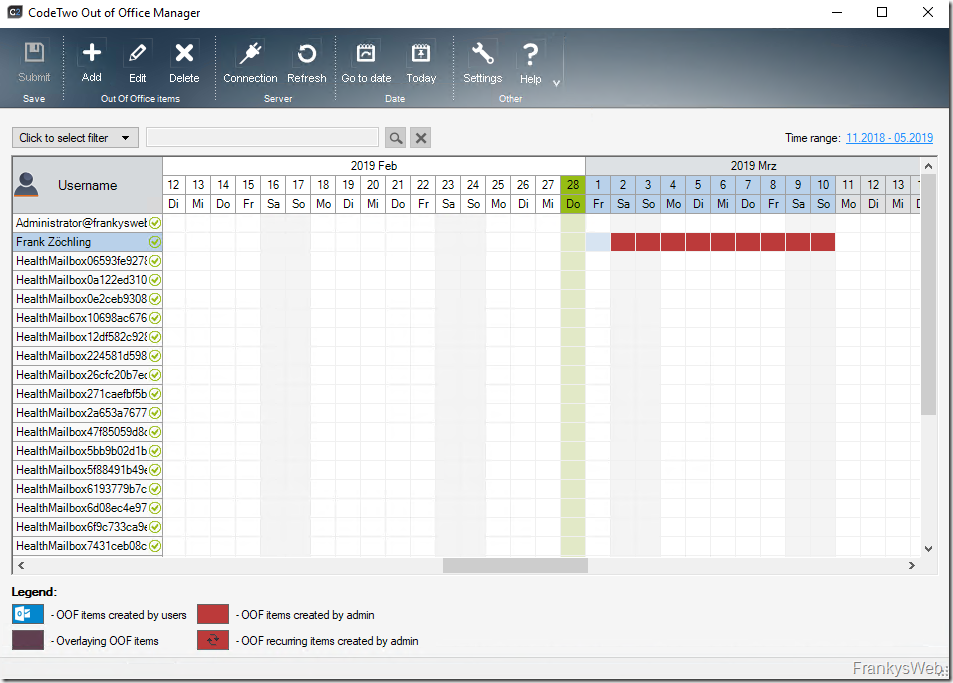 Mein persönliches Fazit: Sehr durchdachtes und übersichtliches Tool. Eigene PowerShell Scripte kann man sich hier meist sparen.