Im ersten Teil des Artikels habe ich die Installation der Exchange 2019 Preview durchgeführt. Das Setup ist nahezu mit Exchange 2016 identisch. Hier nun der zweite Teil meines ersten Eindrucks zu Exchange 2019.
Konfiguration
Nach der Installation finden sich im Startmenü die von Exchange 2016 bekannten Einträge: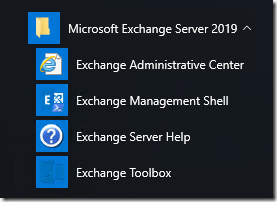 Kleiner Hinweis am Rande: Wie auch schon bei Exchange Server 2016 führt der Link "Exchange Server Help" zur Dokumentation von Exchange 2013 im Technet. Der Link sollte also mal aktualisiert werden, denn die Doku liegt nicht mehr im Technet, sondern mittlerweile unter docs.microsoft.com und die Version lässt sich auch nicht umstellen: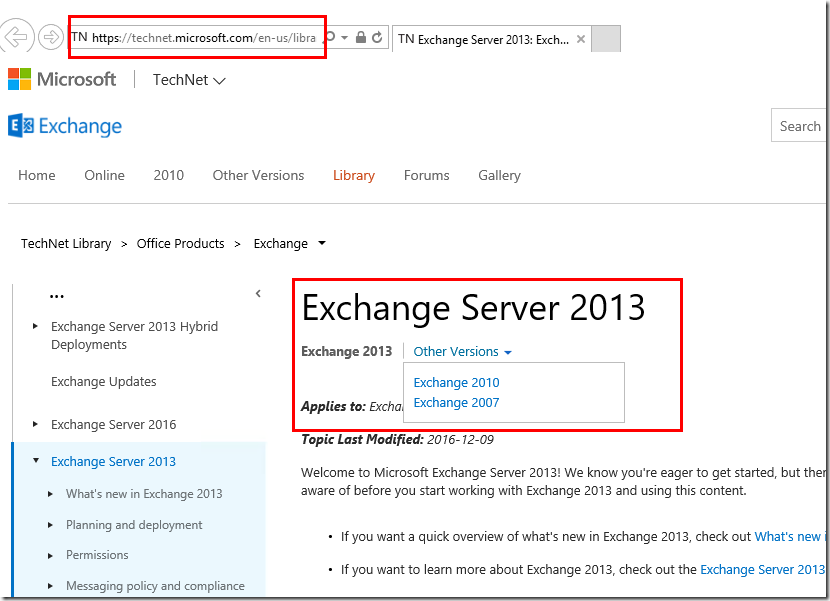 Weiter zur Konfiguration. Das Exchange Admin Center ist komplett identisch zu Exchange 2016, ich hab zwar nur die Menüpunkte auf die Schnelle verglichen, aber jemand der bereits mit Exchange 2016 gearbeitet hat, wird (zumindest in der Preview) nur an der Versionsnummer erkennen können ob er es mit Exchange 2016 oder Exchange 2019 zu tun hat: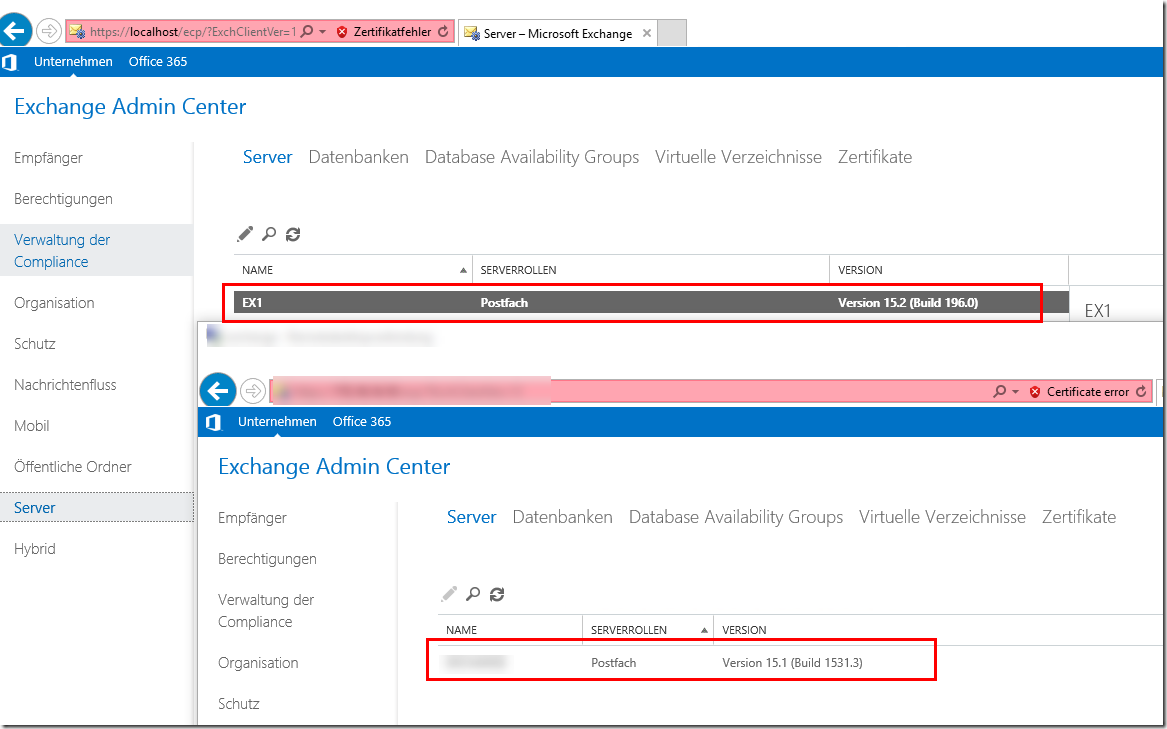 Damit wäre auch klar, dass Exchange 2019 die Versionsnummer 15.2 verwendet (Exchange 2010 = V14, Exchange 2013 = V15, Exchange 2016 = V15.1, Exchange 2019 = V15.2).
Böse Zungen werden wahrscheinlich behaupten, dass es sich hier im Grunde nur um ein weiteres Service Pack für Exchange 2013 handelt. Es macht allerdings durchaus Sinn aus Sicht der Kompatibilität mit anderer Software V15 beizubehalten, gerade wenn Exchange APIs und Protokolle kompatibel bleiben. Ich persönlich finde es gut, dass hier V15 beibehalten wird, denn so funktioniert beispielsweise mein kleines Script "Exchange Configurator 2016" weiterhin: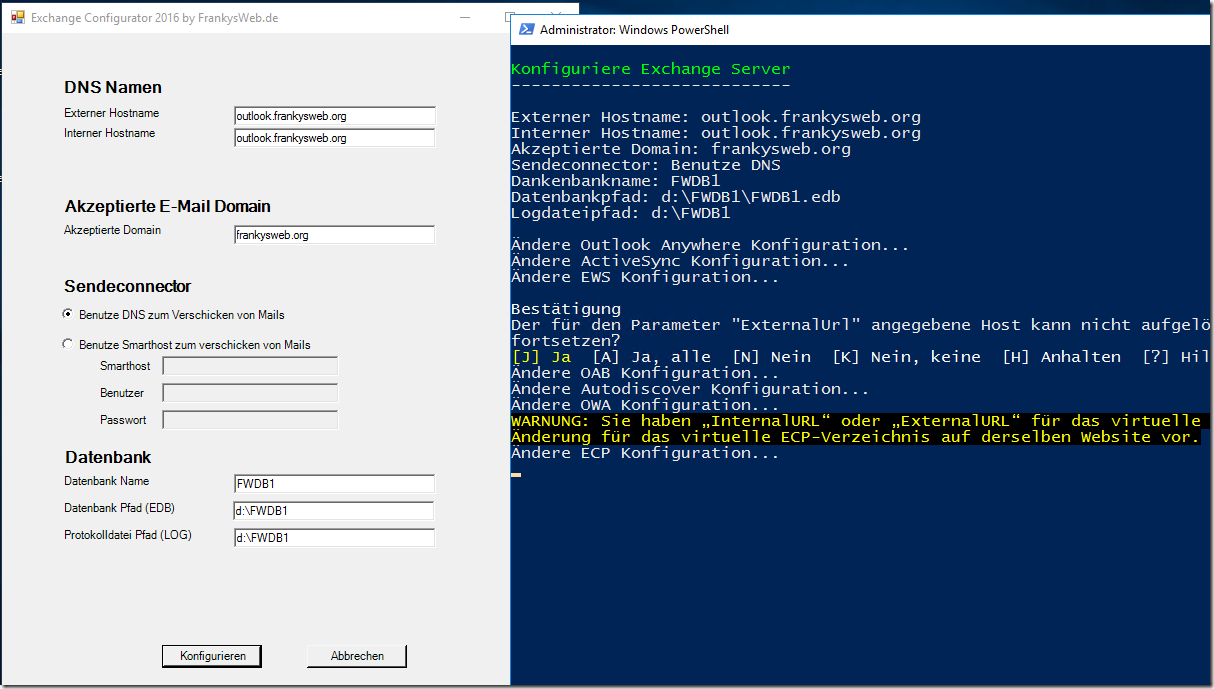 Gut… jetzt hab ich allerdings hier nichts mehr zu berichten. Die Basis Konfiguration ist identisch zu Exchange 2016, daher spare ich mir an dieser Stelle die komplette Beschreibung. Ein Vorteil ist allerdings, die vielen bekannten und bewährten Scripte werden aller Wahrscheinlichkeit auch mit Exchange 2019 funktionieren oder nur minimale Anpassungen erfordern.
OWA (bzw. Outlook on the Web)
Auch bei OWA (oder Outlook on the Web) gibt es für den Benutzer erst einmal keine offensichtlichen Änderungen: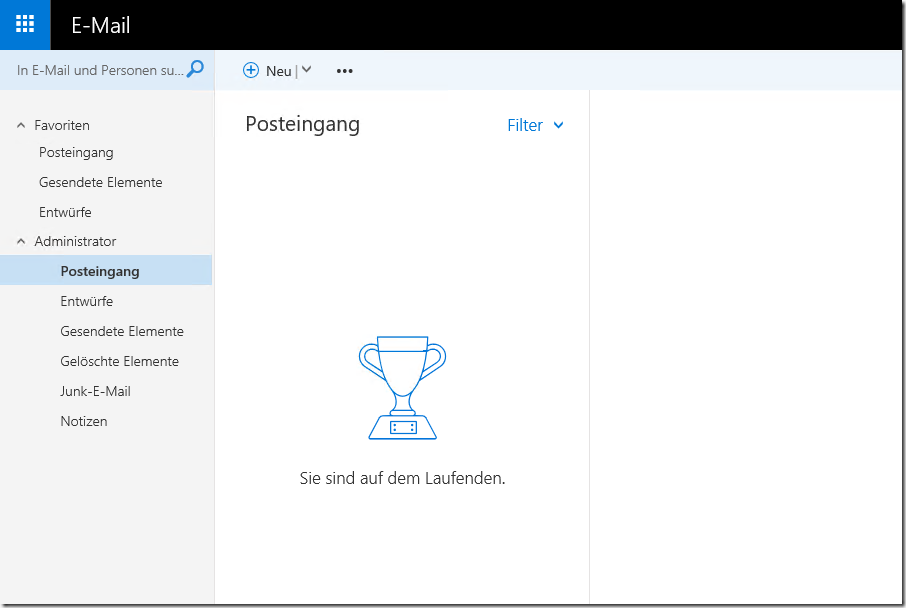 Auch hier kann ich auf die ersten Blicke keine Veränderung gegenüber Exchange 2016 feststellen. Für die Benutzer ist dies positiv, denn ein Exchange 2013/2016 Benutzer wird sich ohne Einweisung / Schulung auch in OWA auf Exchange 2019 zurecht finden. Aus Admin-Sicht ist dies ja schon fast langweilig.
Erstes Fazit
Aus Admin-Sicht ändert sich nahezu nichts. Die Installation und Konfiguration bezogen auf die Preview von Exchange 2019 zu Exchange 2016 ist identisch. Hier gibt es keine neuen Herausforderungen oder von Grund auf neue Themen für Admins.
Microsoft hat mit der neuen Exchange Version hauptsächlich Veränderungen am Unterbau durchgeführt. Die Exchange Unified Messaging Rolle ist gestrichen worden, ich glaube aber dass diese kaum jemand vermissen wird. Die Suche wurde weiter verbessert und benutzt nun Technologie von Bing. Ich würde mir wünschen, dass ich innerhalb von Outlook / OWA genauso schnell suchen und finden kann wie auf der Goo…Bing Website, am liebsten auch unabhängig vom Cache-Mode. Dies muss sich aber erst noch in der Praxis beweisen.
SSDs als Tiered Storage und die Unterstützung von 48 CPU-Cores und 256 GB RAM je Exchange Server hört sich zwar gut an, aber die meisten Besucher meiner Webseite werden dies wohl kaum so umsetzen.
Exchange 2019 wird die erste Exchange Version sein, die sich auf Windows Server (2019) Core installieren lässt, ich persönlich finde das super, ich brauche keine GUI nur um lokal auf dem Server die Management Shell zu starten oder lokal das Exchange Admin Center aufzurufen. Wenn dadurch weniger Neustarts aufgrund von Updates nötig sind: Cool!