Seit Exchange 2013 ist auch ein Virenscanner enthalten. Wie bei den meisten anderen Virenscanner auch, müssen auch hier die Signaturen aktualisiert werden. Bei der Aktualisierung der Signaturen kann es zu Problemen kommen, insbesondere wenn Exchange nicht auf Laufwerk C: installiert wurde.
Der folgende Eintrag findet sich dann im Eventlog:
Quelle: FIPFS
Ereignis-ID: 6027
MS Filtering Engine Update process was unsuccessful to download the engine update for Microsoft from Primary Update Path.
Update Path:http://forefrontdl.microsoft.com/server/scanengineupdate
UpdateVersion:0
Reason:"There was a catastrophic error while attempting to update the engine. Error: DownloadEngine failed and there are no further update paths available.Engine Id: 1 Engine Name: Microsoft"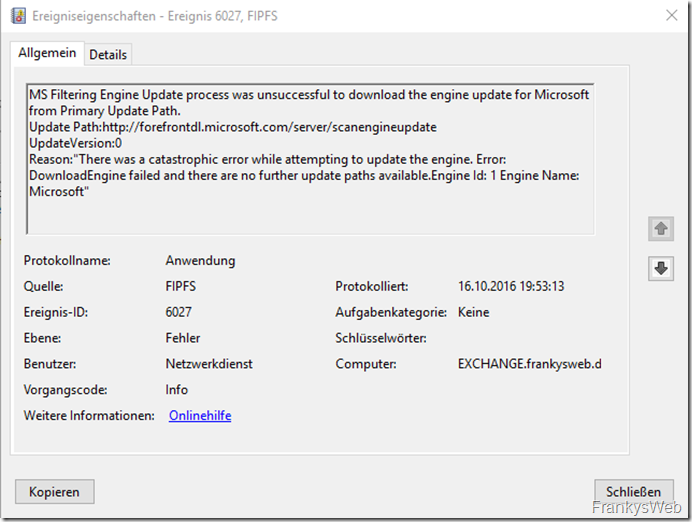 Ganz so drastisch wie die Fehlermeldung, ist das Problem aber nicht:
There was a catastrophic error while attempting to update the engine.
Um den "katastrophalen" Fehler zu beheben, sollte zunächst geprüft werden, ob die Update URL aus der Fehlermeldung erreichbar ist:
Die Webseite liefert den HTTP Code 403 "Access denied" wieder, wenn eine Verbindung hergestellt werden konnte. Bei HTTP 403 handelt es sich hier also um kein Problem. Bei HTTP 404 wäre die Seite nicht erreichbar, in diesem Fall könnte eine Firewall Schuld sein.
In diesem Fall ist also alles in Ordnung:

Wie bereits eingangs erwähnt, tritt das Problem häufig auf, wenn Exchange Server auf einem anderen Laufwerk als C: installiert wurde. In diesem Beispiel ist Exchange auf Laufwerk E: installiert und die UAC eingeschaltet. In diesem Fall greift der Schutz für bestimmte Verzeichnisse von Exchange Server. Leider wird dadurch auch die Aktualisierung der Signaturen verhindert und es kommt zu den oben gezeigten Fehler.
Um den Fehler zu beheben reicht es die Meldung "Sie verfügen momentan nicht über die Berechtigung des Zugriffs auf diesen Ordner" mit "Fortsetzen" zu bestätigen: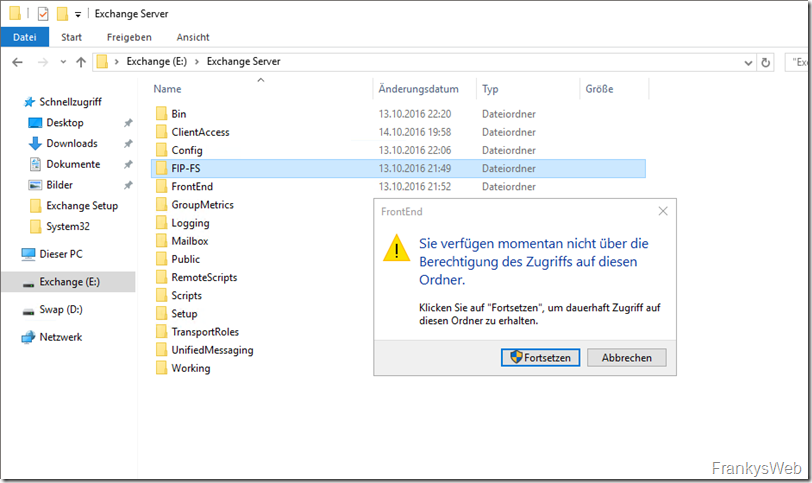 Die Meldung muss für alle Ordner in dem folgenden Pfad bestätigt werden:
E:\Exchange Server\FIP-FS\Data\Engines\amd64 (wobei E:\Exchange Server das entsprechende Installationsverzeichnis ist)
Weiterhin kann auch gleich kontrolliert werden, ob der Benutzer "Netzwerkdienst" Vollzugriff auf entsprechende Verzeichnis hat: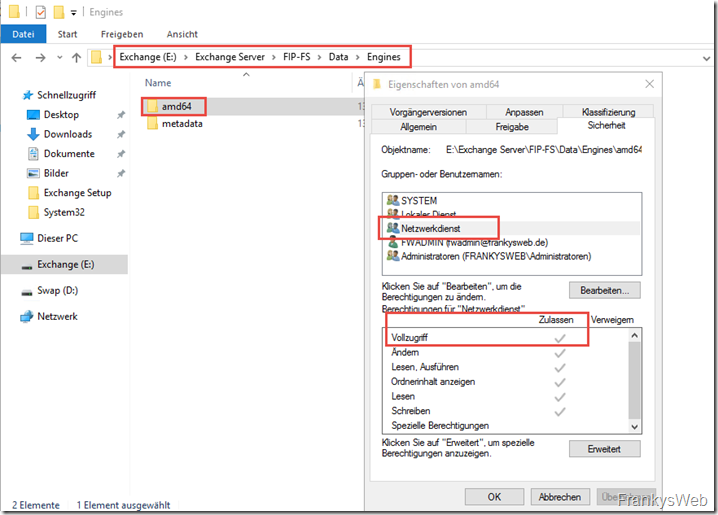 Exchange lädt in der Standardeinstellung alle 30 Minuten Signaturen runter. In meinem Fall war nach den oben genannten Schritten das Update erfolgreich und es wurde das Event 6036 angezeigt: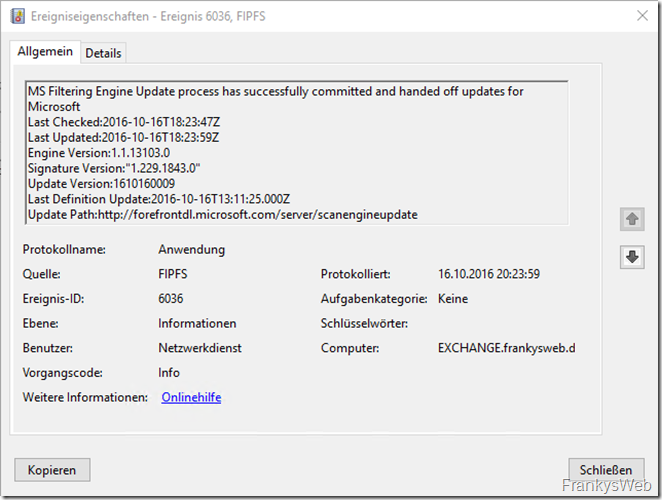 Falls die Schritte nicht reichen sollten, gibt es noch das Tool "FPSDiag" im Ordner FIP-FS\Bin. Das Diagnosetool generiert einen Satz Logfiles die ggf. bei der Analyse weiterhelfen können: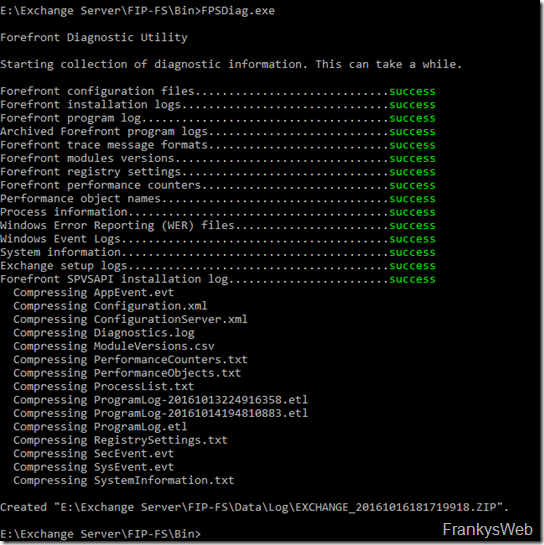 In den meisten Fällen ist aber eine der folgenden Ursachen für das Problem verantwortlich:
Firewall blockiert Update Seite
"Netzwerkdienst" hat keinen Zugriff auf das Verzeichnis
Verzeichnisschutz aktiv
Hinweis: Bei einer größeren Anzahl Exchange Server im Unternehmen, muss nicht jeder Exchange Server die Signaturen aus dem Internet runterladen. Es gibt die Möglichkeit ein zentrales Repository für die Exchange Server zu konfigurieren.Ein entsprechender Artikel dazu folgt noch.