Das E-Mail Pickup Verzeichnis findet zwar nicht mehr häufig Anwendung, aber heute war mal wieder so Fall mit einer etwas spezielleren Software…
Beim E-Mail Pickup Verzeichnis handelt es sich um einen normalen Ordner im Filesystem der von Exchange auf neue E-Mail überwacht wird, landet eine E-Mail in diesem Ordner, wird Exchange versuchen die Mail zuzustellen. Programme können also Dateien, die entsprechend formatiert sind, in das Verzeichnis werfen und Exchange kümmert sich um die Zustellung.
In der Standardeinstellung liegt das Pickup Verzeichnis unter folgenden Pfad:
%ExchangeInstallPath%TransportRoles\PickUp

Wenn in diesem Verzeichnis Dateien mit der Endung .EML kopiert werden, startet Exchange die Verarbeitung. Hier ein Bespiel einer EML Datei:

Kurz nachdem die E-Mail in das Pickup Verzeichnis kopiert wurde, wird die Endung nach .TMP geändert, Exchange startet also die Verarbeitung und stellt die E-Mail zu: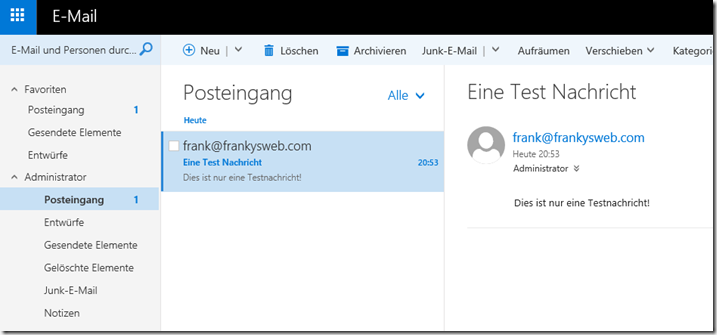 Im Message Tracking Log sieht es dann wie folgt aus, hier wird als Source "Pickup" angegeben:

Das Pickup Verzeichnis ist erst einmal nur Verzeichnis auf dem Exchange Server, wer es von anderen Rechnern/Servern nutzen möchte, muss das Verzeichnis also freigeben, damit andere Clients ihre Dateien dort ablegen können.
Hier muss allerdings bedacht werden, dass Exchange alle validen Dateien im Pickup Verzeichnis abarbeitet, an dieser Stelle findet keine Empfänger oder Absender Prüfung statt, im Prinzip handelt es sich dabei also um ein internes OpenRelay. Hier als Beispiel wird eine Mail von einem nicht existierenden Absender an eine Adresse via Pickup verschickt die außerhalb der Organisation liegt:

Wer also das Pickup Verzeichnis mittels Freigabe nutzen möchte sollte es etwas anpassen:
Eigenes Verzeichnis erstellen
Zugriff auf das Verzeichnis einschränken
Monitoring konfigurieren
Ein eigenes Verzeichnis, am besten auf einer separaten kleinen Partition oder Mountpoint, kann mit dem folgenden Befehl konfiguriert werden:
Get-TransportService | Set-TransportService -PickupDirectoryPath "D:\Pickup"


Das Verzeichnis wird automatisch angelegt und kann jetzt freigegeben werden: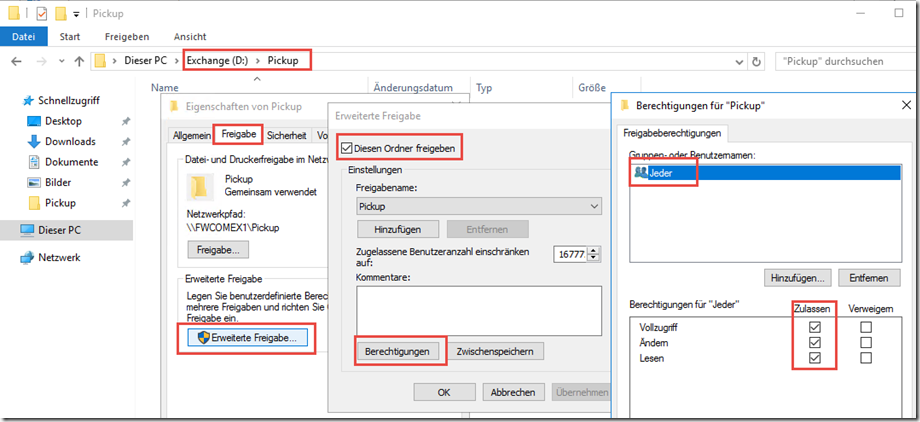 Die NTFS Berechtigungen für das Pickup Verzeichnis können mittels einer Active Directory Gruppe gesteuert werden, damit nur Benutzer die Mitglied der Gruppe sind das Pickup Verzeichnis benutzen können: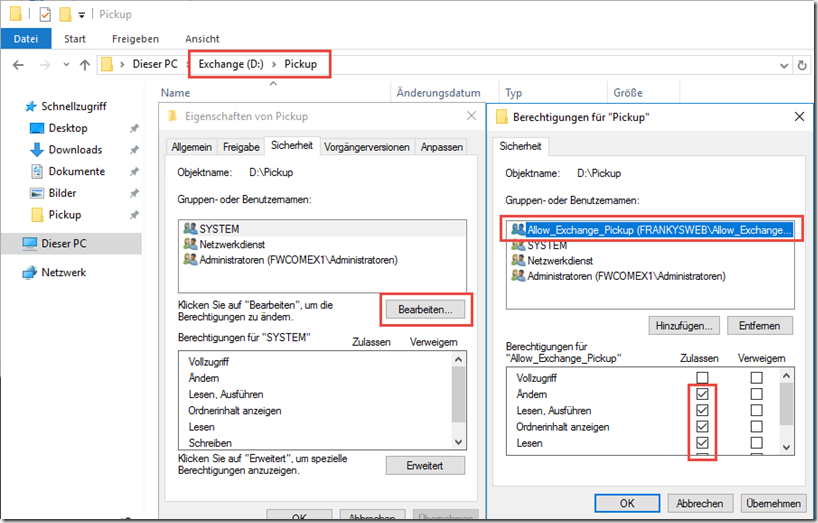 Zusätzlich sollte das Verzeichnis auf Dateien mit der Endung .BAD überwacht werden. Bei Dateien mit der Endung .BAD handelt es sich um Mails die aufgrund einer falschen Formatierung nicht verarbeitet werden konnten. Hier ein Beispiel: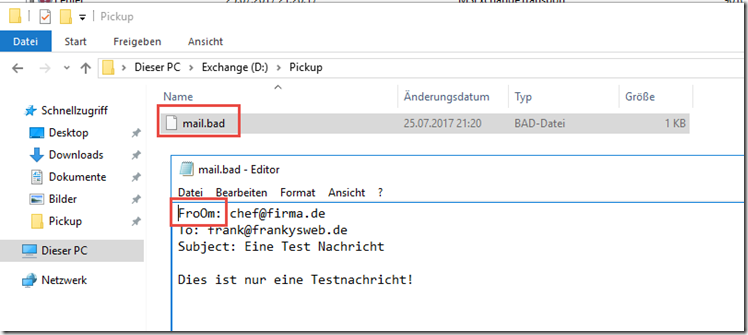 Wenn E-Mails nicht verarbeitet können, wird auch das folgende Event in der Ereignisanzeige protokolliert:
Quelle: MSExchangeTransport

Ereignis-ID: 9010,

At least one file in D:\Pickup can't be processed. These files have .bad extensions. Please look for .bad files, and make sure that their content is valid.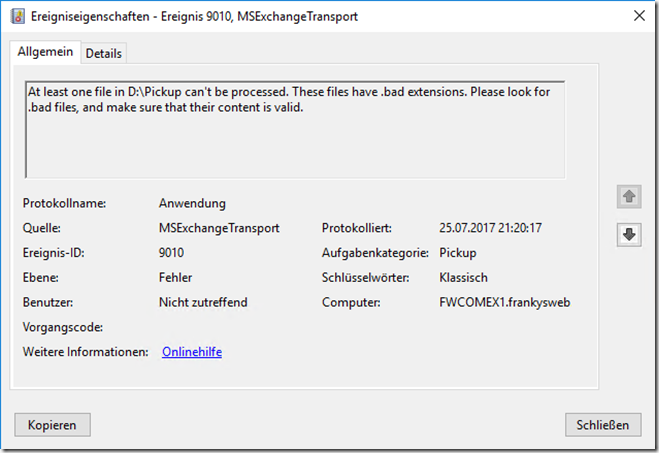 An diesem Punkten lässt sich mit einer Monitroing Lösung ansetzen. Zusätzlich kann auch das Exchange Message Tracking Log nach dem Event "Pickup" durchsucht werden um Unregelmäßigkeiten oder allzu exzessive Nutzung festzustellen.