Es kommt immer mal wieder vor das eine Sicherung des Exchange Servers nicht wie geplant funktioniert. Oft spielen viele Faktoren eine Rolle die den Backup Prozess beeinflussen können. Zur Fehleranalyse (Testen der VSS-Writer, VSS-Dienste) oder im Notfall für ein schnelles Backup, kann auch eine manuelle Sicherung der Exchange Datenbanken durchgeführt werden.
Im Exchange Teamblog gibt es zudem einen schönen 3-Teiligen Artikel wie Exchange Backups funktionieren und durchgeführt werden:
Everything You Need to Know About Exchange Backups – Part 1
Everything You Need to Know About Exchange Backups – Part 2
Everything You Need to Know About Exchange Backups – Part 3
Nun aber zum Thema manuelle Sicherung, wie schon erwähnt kann mittels VSS die Exchange Datenbank im Online Modus gesichert werden, um Fehler oder Probleme mit den Exchange VSS Writern auszuschließen oder zumindest zu identifizieren, kann per Kommandozeile ein Snapshot des Datenbank-Volumes ausgelöst werden.
Ich habe dazu ein Testsystem auf dem die Exchange Datenbanken auf dem Volume D: liegen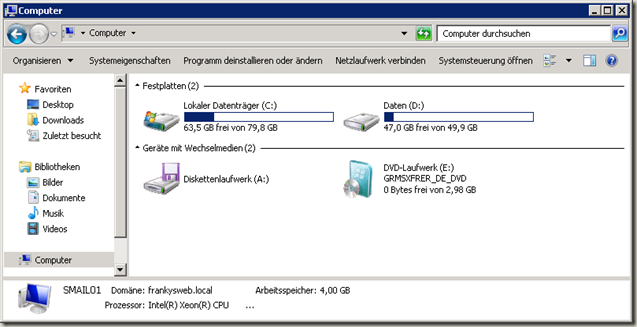 Um einen Snapshot von Laufwerk D: zu erstellen, gehe ich wie folgt vor:
Zunächst eine Kommandozeile (CMD) öffnen und das Programm "DISKSHADOW" starten. Dann werden die folgenden Befehle eingegeben (Erklärung unten)
set context persistent
begin backup
add volume d: alias vss_d
create
expose %vss_d% v:
end backup
"set context persistent" legt die "Art" des Snapshots fest, dabei wird verhindert das der Snapshot gelöscht wird, wenn DISKSHADOW beendet wird.
"Begin Backup" startet eine neue Sitzung zur Vollsicherung.
"Add volume …" fügt das zu sicherende Volume D: hinzu und weißt dem Volume einen Kurznamen zu, der später verwendet wird. Achtung: Wenn Logfiles und Datenbanken auf unterschiedlichen Volumes gespeichert sind, müssen beide Volumes angegeben werden (einfach eine zweite Zeile mit "add volume …" schreiben)
"Create" löst den eigentlichen Snapshots des Volumes aus.
"expose…" mappt den Snapshot als Laufwerk V:, das Laufwerk V: enthält also die eigentlichen Daten des Snapshots.
"end backup" schließt die Sitzung und auch die Transaktionsprotokolle werden gelöscht.
Im Event Log wird der Vorgang ebenfalls protokolliert:

Im Windows Explorer erscheint nun ein neues Laufwerk V: das die Daten des Snapshots enthält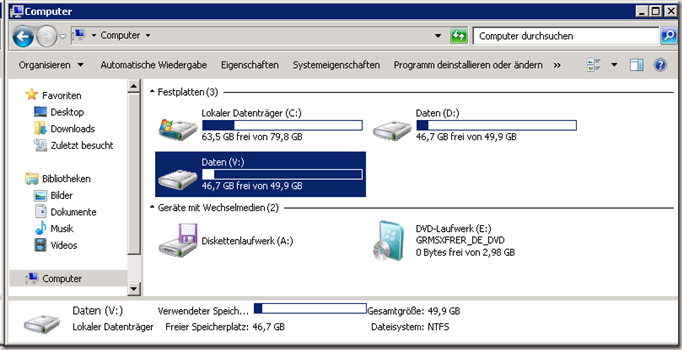 Der Inhalt des Laufwerks V: kann nun auf ein Netzlaufwerk oder eine USB-Festplatte kopiert werden, schon hat eine Datenbank Sicherung.
Nachdem die Daten gesichert wurden kann der Snapshot gelöscht werden:
delete shadows exposed v: