Slack hat Humor, oder alternativ ein ziemlich schlechtes Selbstwertgefühl. Die folgende Fehlermeldung habe ich im Browser sowie im Desktop-Client erhalten: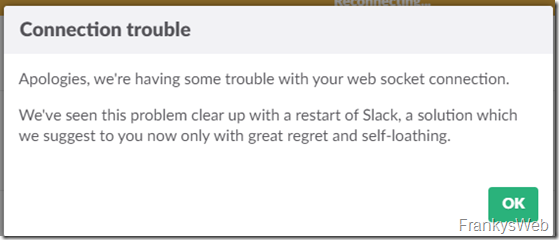 Apologies, we're having some trouble with your web socket connection.

We've seen this problem clear up with a restart of Slack, a solution which we suggest to you now only with a great regret and self-loathing.
Das ist doch mal eine Fehlermeldung, ich hab beim Lesen eines Fehlers tatsächlich mal lachen müssen, das kommt ja nun auch nicht so häufig vor.
Die Slack Entwickler müssen sich übrigens nicht selbst hassen, denn hier hat meine Sophos UTM Probleme mit dem HTTPS-Scans.
Für die Folgenden URLs müssen von den HTTPS-Scans ausgenommen werden, dann klappt es auch mit der Web Socket Verbindung:
^https?://[A-Za-z0-9.-]*\.slack\.com/
^https?://[A-Za-z0-9.-]*\.slack-msgs\.com/
^https?://[A-Za-z0-9.-]*\.slack-files\.com/
^https?://[A-Za-z0-9.-]*\.slack-imgs\.com/
^https?://[A-Za-z0-9.-]*\.slack-edge\.com/
^https?://[A-Za-z0-9.-]*\.slack-core\.com/
^https?://[A-Za-z0-9.-]*\.slack-redir\.net/

Die fertige Web Protection Ausnahme sieht dann wie folgt aus (HTTPS-Scans deaktiviert):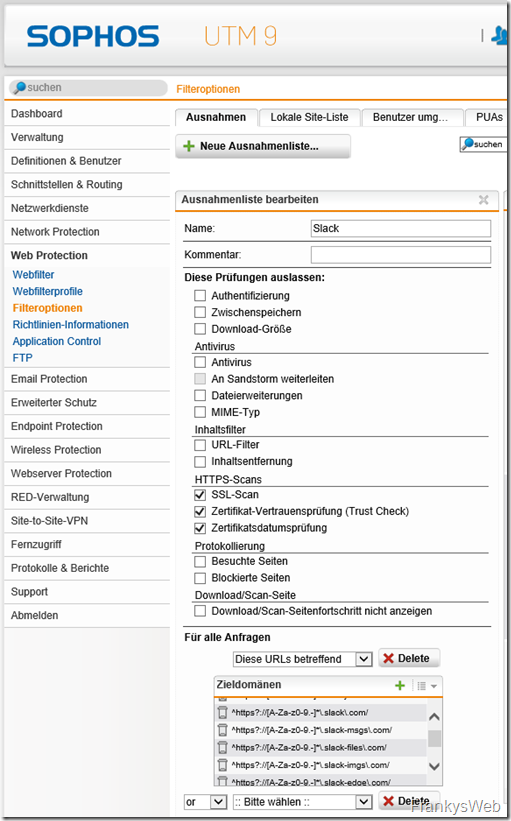 Jetzt funktioniert es einwandfrei. Keine Fehlermeldungen mehr im Browser und Desktop Client. Ich hasse mich dafür auch ein bisschen… :-D