Bereits am 27.04.17 hat Sophos ein Update für die Sophos UTM veröffentlicht, welches Zertifikatswarnungen in Verbindung mit Chrome 58 und eingeschaltetem HTTPS Scanning behebt. Mir wird das Update bisher nicht via Up2Date angeboten, daher hier ein kleiner Hinweis.
Das Update auf die Version 9.413-4 kann hier runtergeladen und manuell installiert werden:
http://ftp.astaro.de/UTM/v9/up2date/
Das Update adressiert ausschleißlich das Zertifikatsproblem mit Chrome 58:
Bugfix:
Fix [NUTM-7586]: [Web] Chrome v58 and higher fail verification with HTTPS scanning enabled
Das Problem, welches auch auf Golem behandelt wurde, resultiert darin, dass Chrome den CommonName (Ausgestellt für) auf Zertifikaten ignoriert und sich nur noch an Namen, die als SubjectAlternateName (Alternative Antragsteller) konfiguriert wurden, richtet. Eine genaue Beschreibung steht im verlinkten Golem Artikel.
Ich konnte das Problem allerdings auch nicht nachvollziehen, setze allerdings für die CA der UTM ein Zertifikat ein, welches von meiner internen CA ausgestellt wurde. Die UTM arbeitet somit als Sub-CA, in dieser Konfiguration kann ich das Problem nicht nachvollziehen. Hier ein aktuelles Beispiel, der Hostname wird als CommonName und SubjectAlternateName eingetragen: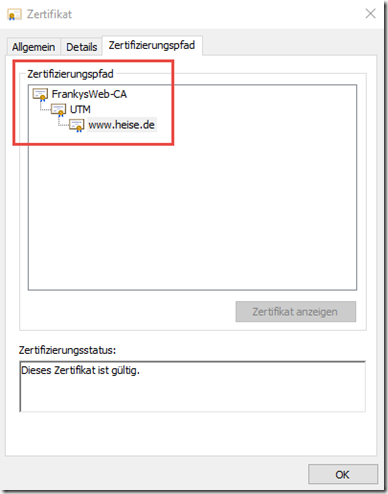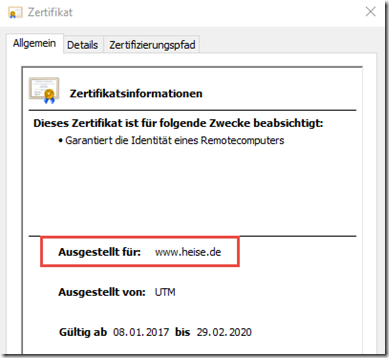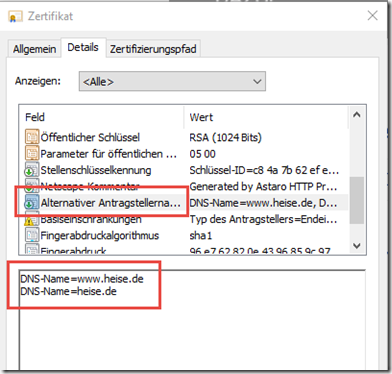 Die Konfiguration mit interner CA als Root-CA für den Webfilter ist übrigens hier beschrieben: