Das folgende Verhalten tritt derzeit verstärkt mit Outlook 2016 und Exchange Server 2016 CU7 auf. Outlook fragt nach dem Öffnen von Anhängen nach den Anmeldeinformationen bzw. es erscheint die Passwortabfrage.
Dieses verhalten konnte ich in meiner Umgebung mit Outlook 2016 (Version 1708 Build 8431.2079) und Exchange 2016 CU7 nachvollziehen.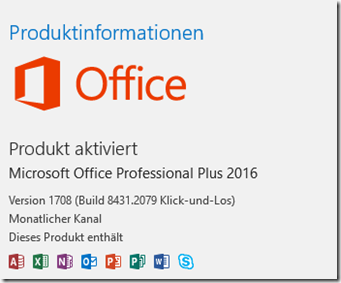 Sobald der Anhang einer E-Mail in Outlook geöffnet wird, wird der Benutzer zur Eingabe von Benutzernamen und Passwort aufgefordert. Der Anhang lässt sich wie gewohnt öffnen. Scheinbar spielt es keine Rolle, welchen Typ der Anhang hat. Mit einer Testmail konnte ich das Problem bei PDF und DOCX Dateien nachstellen: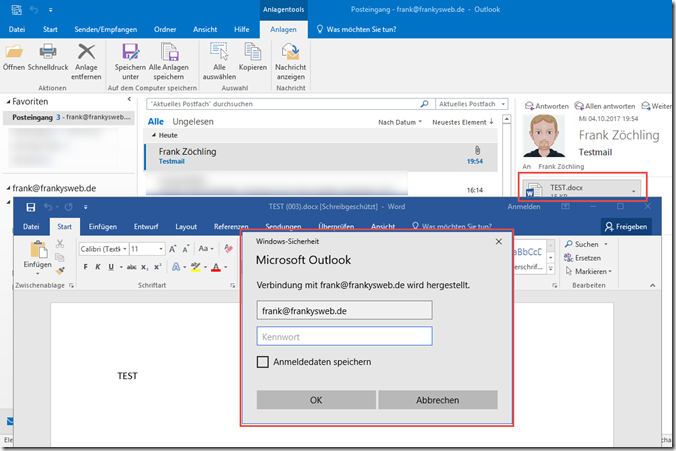 Auch nach der Eingabe von gültigen Anmeldedaten, taucht die Aufforderung wieder auf.
Das Problem ist bei mir erst mit der Installation von CU7 für Exchange Server 2016 aufgetaucht. Es haben mich allerdings mehrere Nachrichten erreicht, dass auch Exchange 2013 und Outlook 2013 von dem Problem betroffen ist.
In einer Testumgebung mit Exchange 2016 CU7 und einer älteren Outlook 2016 Version konnte ich das Problem nicht nachvollziehen. Erst nach dem Update auf das Build 8431.2079 tritt der Fehler auch in der Testumgebung auf.
Scheinbar handelt es sich hier um einen Bug im Zusammenspiel mit der aktuellen Outlook Version und den aktuellen Exchange Updates. Ein Konfigurationsproblem auf Exchange Server Seite konnte ich bisher nicht feststellen. Daher hat bei mir bisher nur das Downgrade der Outlook Version geholfen. Ich setze die Office 2016 Click-to-Run Variante ein und konnte mit den folgenden Befehlen auf ein älteres Build wechseln:
cd %programfiles%\Common Files\Microsoft Shared\ClickToRun\
officec2rclient.exe /update user updatetoversion=16.0.8326.2107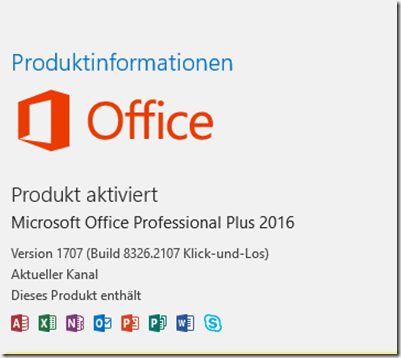 Auf andere Builds wollte sich meine Outlook/Office Installation nicht downgraden lassen. Hier finden sich die entsprechenden Build Nummern:
Version and build numbers of update channel releases
Hier gibt es eine Anleitung für das Downgrade einer Office Click-to-Run Installation:
How to revert to an earlier version of Office 2013 or Office 2016 Click-to-Run
Hier gibt es auch einen aktuellen Thread im Technet Forum:
Outlook 2016 prompting for login credentials when opening any email attachments
Mit dem Build 8326.2107 tritt das Problem bei mir nicht mehr auf. Ich nehme an, dass es bald ein Update geben wird…
Update 27.10.17:
Leider ist auch in der aktuellen Click-to-Run Version (8528.2139) das Problem immer noch vorhanden. Es gibt allerdings einen Workaround. Andi hat einen Hinweis im MS Forum gefunden, wonach das Problem mit einer Verbindung von Outlook zu outlook.office.com hervorgerufen wird (siehe Kommentare). Als Workaround wurde ein Eintrag in der Host-Datei des Clients vorgenommen um das Problem zu umschiffen. Ich habe es ebenfalls getestet und kann bestätigen, dass es hilft den Hostnamen für Outlook.office.com ins Leere laufen zu lassen. Ich würde allerdings vorschlagen, anstatt der lokalen HOST-Datei an jedem Client, den Eintrag am DNS Server zu manipulieren. Dazu kann einfach eine neue Zone mit dem Namen "Outlook.office.com" angelegt werden, innerhalb der Zone wird dann ein A-Record ohne Namen mit dem Wert 127.0.0.1 angelegt:

So muss nicht an jedem Client die Host-Datei angepasst werden und es lässt sich schnell wieder rückgängig machen. Bisher hat Outlook bei mir nicht wieder nach den Anmeldeinformationen gefragt. Danke an Andi für den Hinweis.
Update 10.01.2018
Aktuell tritt das Problem wieder auf Outlook 2016 (Build 7730.2175) versucht wieder die Autodiscover Abfrage gegen Outlook.office365.com: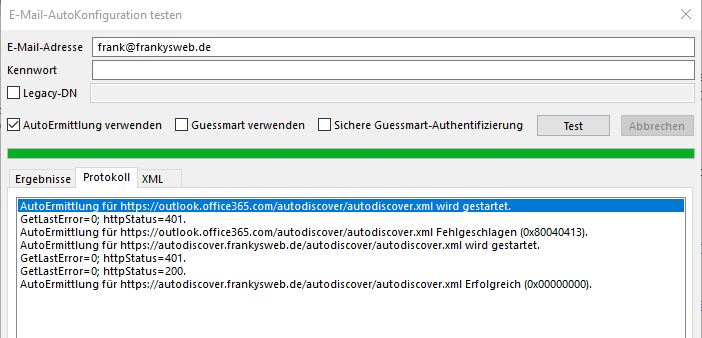 Der Workaround, wie oben beschrieben, der die Autodiscover Abfrage ins Leere laufen lässt funktioniert auch in diesem Fall.
Update 11.01.2018
Marc hat darauf hingewiesen das bei Outlook 2016 Click-to-Run die Autodiscover Methode geändert wurde. Dies ist an mir komplett vorbei gegangen. Hier der entsprechende Kommentar von Marc
Hallo Franky
Hallo Community,

It's not a bug, it's a feature!

Wir haben nun nochmal ein wenig geforscht. Microsoft hat hier die Implementation von Autodiscover verändert und greift zunächst erstmal auf Office365 zu.

https://support.microsoft.com/en-us/help/3211279/outlook-2016-implementation-of-autodiscover

Bei uns im Hause haben wir jedoch auch Rechner, bei denen der Autodiscover ordentlich funktioniert. Wir haben diese einmal verglichen. Auf den Rechnern wo es nicht ordnungsgemäß funktioniert und er sich mit O365 verbindet haben wir unter "Datei->Office-Konto" auch 2 Kontos hinterlegt. Eins für's lokale Exchange Konto und eins für den Microsoft Cloud Dienst. Leider brachte hier das rausnehmen des Cloud Kontos keinen Erfolg. Aber vielleicht hängt es irgendwie auch hiermit zusammen. Trotz gleicher Version verhalten unsere Rechner sich hier ganz unterschiedlich.

Schaut euch auch mal folgenden Link an:
https://www.gothamweb.com/portal/index.php/knowledgebase/8/Outlook-bypasses-AutoDiscover-and-connects-directly-to-Office-365-mailbox.html

Mit dem entsprechenden Registry Eintrag kann man Outlook davon abhalten den Autodiscover auf dem Office365 Server auszuführen:

HKEY_CURRENT_USER\SOFTWARE\Policies\Microsoft\office\16.0\outlook\autodiscover
DWORD: ExcludeExplicitO365Endpoint
Value = 1

Das kann aber auch immer noch nicht die beste Lösung sein.

Liebe Grüße

Marc Debus
Vielen Dank an Marc! Das geänderte Verhalten erklärt auch, warum "normale" Outlook 2016 Installationen dieses Verhalten nicht an den Tag legen.