Ein einzelner Benutzer konnte nach einem Ausfall einer Datenbank, aufgrund einer vollgelaufen Logfile Partition, nicht mehr auf sein Postfach zugreifen. Das Problem betraf nur einen Benutzer, während alle anderen Benutzer wieder auf die Postfächer in der Datenbank zugreifen konnten. Ein generelles Problem mit der Datenbank ließ sich somit schon einmal ausschließen.
Auch die Einstellungen des Postfachs ließen sich im Exchange Admin Center problemlos aufrufen, erst wenn der Reiter "Postfachfunktionen" ausgewählt wurde, trat eine Warnung auf: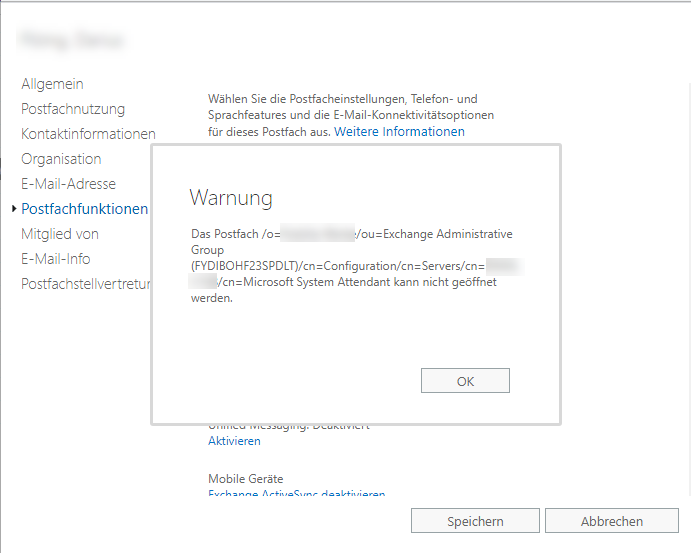 Hier einmal der Text aus der Fehlermeldung:
Warnung
Das Postfach /o=ORGNAME/ou=Exchange Administrative Group (FYDIBOHF23SPDLT)/cn=Configuration/cn=Servers/cn=SERVERNAME/cn=Microsoft System Attendant kann nicht geöffnet werden.
Das Eventlog des Servers lieferte dann einen entscheidenden Hinweis, da das betreffende Postfach in der Datenbank aus der Fehlermeldung gespeichert wurde: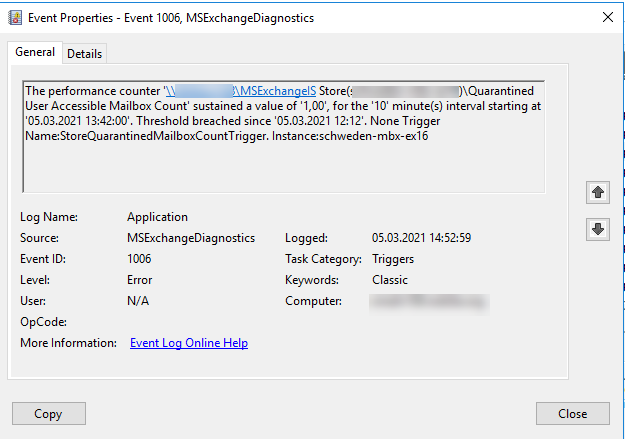 Hier einmal der Text der Fehlermeldung:
The performance counter '\SERVERNAME.MSExchangelS Store(DATABASENAME)\Quarantined
User Accessible Mailbox Count1 sustained a value of '1,00', for the '10' minute(s) interval starting at '05.03.2021 13:42:00'.
Threshold breached since '05.03.2021 12:12'. None Trigger Name:StoreQuarantinedMailboxCountTrigger. Instance:DATABASENAME
Die Fehlermeldung sagt aus, dass sich mindestens ein Postfach in der Datenbank in Quarantäne befindet. Eine schnelle Prüfung ergab, dass es sich um das Postfach des Benutzers handelte, welcher nicht mehr auf Exchange zugreifen konnte:

Get-MailboxStatistics ALIAS | ft *quaran*


Die Quarantäne-Funktion für Postfächer ist leider nicht besonders gut dokumentiert, in diesem Fall wird wahrscheinlich die vollgelaufene Logfile Partition dazu geführt haben, dass das Postfach des Benutzers in Quarantäne gestellt wurde. Genau nachvollziehen lies sich dies allerdings nicht mehr.
Wie im Screenshot zu sehen ist, hat die Quarantine Funktion ein zeitliches Ende. Nach 24 Stunden wird ein Postfach automatisch aus der Quarantäne entfernt. Wer nicht so lange warten möchte, kann den folgenden Befehl verwenden, um das Postfach aus der Quarantäne zu holen:

Disable-MailboxQuarantine ALIAS

Mit dem folgenden Befehl lassen sich alle Postfächer anzeigen, welche sich in Quarantäne befinden:

Get-Mailbox -Database DBNAME -ResultSize unlimited | Get-MailboxStatistics | Select DisplayName,IsQuarantined,QuarantineEnd | Where-Object {$_.IsQuarantined -eq $True}

Falls sich mehrere Postfächer in Quarantäne befinden, kann der folgende Befehl verwendet werden, um die Quarantäne zu beenden:

Get-Mailbox -Database DBNAME -ResultSize unlimited | Get-MailboxStatistics | Select DisplayName,IsQuarantined,QuarantineEnd | Where-Object {$_.IsQuarantined -eq $True} | Disable-MailboxQuarantine