Microsoft hat den Exchange 2019 Sizing Calculator angekündigt. Wie auch schon bei Exchange 2016 und früheren Versionen handelt es sich dabei um eine Excel Datei mit deren Hilfe die Hardware Anforderungen für neue Exchange 2019 Installationen berechnet werden können.
Leider lässt sich der Sizing Calculator aber nicht runterladen, sondern wird zusammen mit dem kommenden CU2 für Exchange 2019 in der ISO Datei enthalten sein. Leider wird es den Sizing Calculator also nicht mehr einfach zum Download geben, dafür nennt Microsoft den folgenden Grund:
Moving this to the .ISO will allow us to update the calculator more readily and more frequently, as well as ensure it is aligned with any future investments in Exchange Server.

Quelle: Announcing The Exchange Server 2019 Sizing Calculator
Ich musste über diesen Grund auch etwas schmunzeln: Ist Microsoft da kein besserer Weg eingefallen, als eine kleine Excel Datei in ein ISO zu packen!?
Unter dem oben verlinkten Artikel findet sich die komplette Ankündigung des Exchange Teams. Der Link führt übrigens zur neuen Heimat des Exchange Team Blogs, auch hier muss wohl noch ein bisschen Hand angelegt werden. Zumindest das aktuelle Design sieht doch irgendwie unfertig aus:

Auch scheinen einige Funktionen noch nicht so ganz zu funktionieren, ein Klick auf ein Bild öffnet beispielsweise nur eine kleine Version des Bildes, vergrößern oder die Darstellung in Orginalgröße klappt aktuell nicht: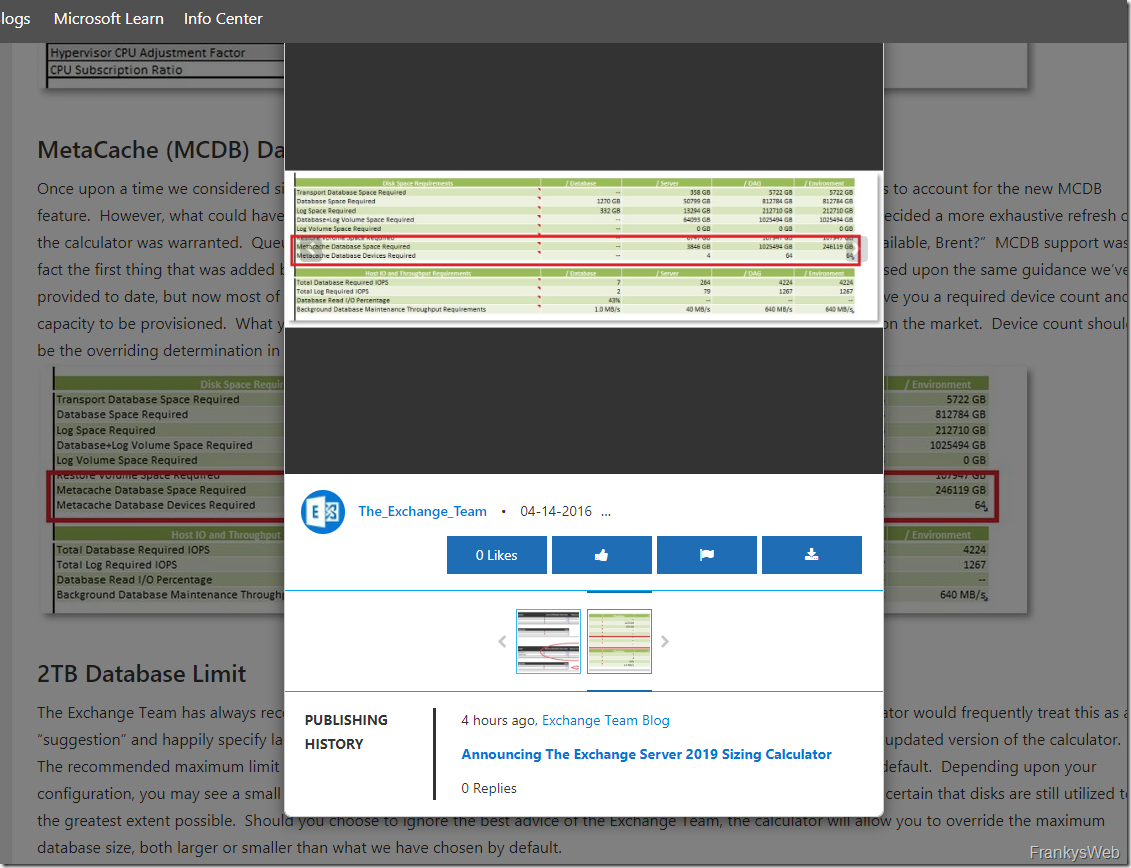 Die kleinen Probleme werden bestimmt noch behoben, vielleicht wird ja dann sogar auch noch der Sizig Calculator zum Download angeboten…