Schannel Fehlermeldungen sind häufig und können viele verschiedene Ursachen haben. Hier ist eine recht spezielle Fehlermeldung die auf einem Windows Server 2022 aufgetreten ist, nachdem das Betriebssystem der standardmäßigen Härtung unterzogen wurde. Nachdem veraltete Cipher Suites und SSL / TLS Protokolle deaktiviert wurden, tauchte die folgende Fehlermeldung sehr häufig im System Eventlog auf:
Quelle: Schannel

Event ID: 36871

A fatal error occurred while creating a TLS client credential. The internal error state is 10013.
The SSPI client process is svchost[wlidsvc] (PID: 4828).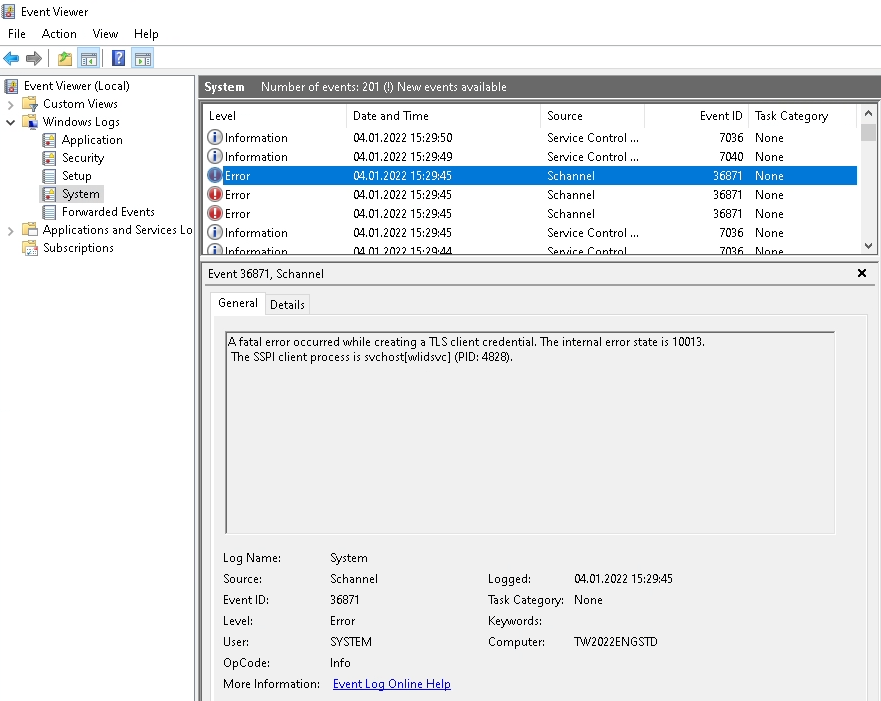 Die Lösung dieses Problems war recht einfach, denn die Fehlermeldung weißt schon in die richtige Richtung. Die Fehlermeldung weißt darauf hin, dass der problematische Dienst "wlidsvc" ist, welcher von "svchost" gestartet wird (siehe Screenshot der Fehlermeldung). WLIDSVC gehört zu dem Dienst "Microsoft Account Sign-In Assistant" und ermöglichst die Anmeldung mit Microsoft Accounts. Auf Windows Servern wird dieser Dienst allerdings nicht benötigt und kann daher deaktiviert werden:

Der Dienst "Microsoft Account Sign-In Assistent" steht in der Standardeinstellung auf der Startart "Manuell" und startet zyklisch. Immer wenn der Dienst gestartet wird, kommt es zu den oben angegebenen Fehlermeldungen in Eventlog. Bei Windows Server 2016 war es noch in Ordnung den Dienst zu deaktivieren, daher gehe ich mal davon aus, dass dies auch bei Windows Server 2022 der Fall ist. Siehe dazu hier:
Nachdem der Dienst deaktiviert wurde, sind die Fehlermeldungen nicht mehr aufgetreten.
Hier finden sich übrigens die Microsoft Security Baselines für Windows Server 2022 und Edge:
Zum Thema "Härtung von Windows Server 2022" wird es hier noch einen gesonderten Artikel geben.