Die Sophos UTM Email Protection enthält einen Bug bei dem die Empfängerverifizierung einfach übersprungen wird. Im Falle der Empfänger Prüfung mittels Active Directory und der Abfrage via SSL findet keine Verifizierung der Empfänger statt. Hier einmal die problematischen Einstellungen:
Empfängerverifizierung mittels Active Direcory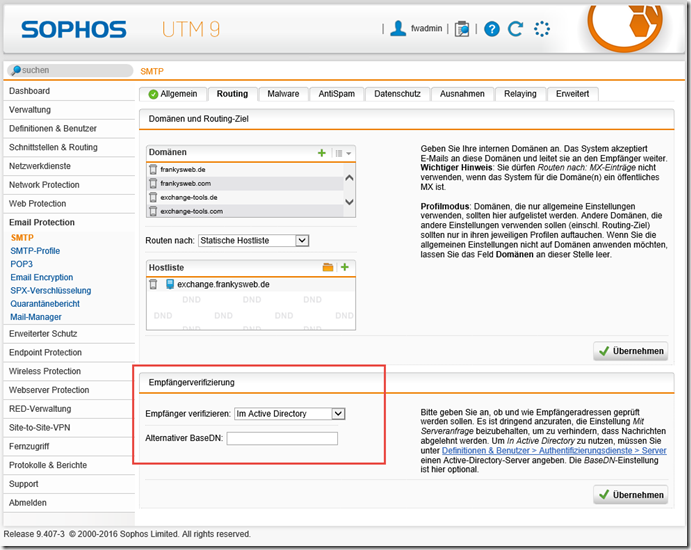 Abfrage des Active Directory mit SSL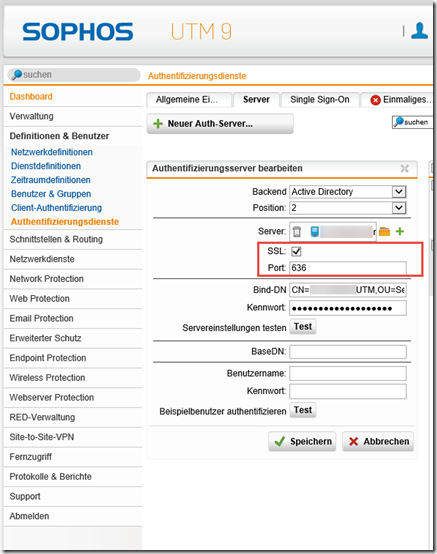 Im Live Log der Email Protection führt es dann zu folgenden Logeinträgen:
2016:11:16-20:45:43 utm exim-in[25000]: 2016-11-16 20:45:43 [127.0.0.1] F= R= Verifying recipient address in Active Directory 
2016:11:16-20:45:43 utm exim-in[25000]: 2016-11-16 20:45:43 H=mx.frankysweb.com [127.0.0.17]:46804 Warning: ACL "warn" statement skipped: condition test deferred: failed to bind the LDAP connection to server 127.0.0.2:636 - ldap_bind() returned -1 

Das Abfragen des Domain Controller schlägt fehl, und die Empfängerverifizierung wird übersprungen.
Empfängerprüfung via Serveranfrage (CallOut)?
Das Verhalten ist insbesondere mit Exchange 2013 und Exchange 2016 unschön, denn eine Empfängerprüfung via CallOut (Mit Serveranfrage) ist ohne Edge Transport Server nur schwer umzusetzen.

Da Recipient Validation erst am Hub Transport Connector stattfindet, aber nicht am FrontEnd. Exchange wird in diesem Fall also immer mit "250 Recipient OK" antworten. Die fehlende Empfänger Prüfung auf Exchange Seite ist hier Architektur bedingt. Eine Mail wird vom "Default Frontend"-Empfangsconnector immer angenommen und stumpf an den "Default"-Empfangsconnector weitergeleitet:


Die Empfängerverifizierung ist in diesem Fall also immer für die Mail Protection der UTM erfolgreich, denn erst der nachgelagerte Connector führt die Validierung des Empfängers durch. Dies ist übrigens auch der Fall, wenn die Exchange AntiSPAM Agents installiert werden.
LDAP SSL abschalten?
Äh? Nein, weil NEIN!
Sophos UTM Mail Protection anpassen (Workaround)
Das Anpassen der UTM Konfiguration via Shell wird wohl Probleme beim Support nach sich ziehen, darauf wird bereits beim Login hingewiesen:
NOTE: If not explicitly approved by Sophos support, any modifications
done by root will void your support.
Das Vorgehen sollte also mit dem Support abgesprochen werden. Ich habe nur die Home Version, also kann ich eh nicht auf den Support zurückgreifen.
Nachdem man sich auf der Shell mittels "sudo su –" Root-Rechte verschafft hat, kann die folgende Datei mittels VI editiert werden:
vi /var/chroot-smtp/etc/openldap/ldap.conf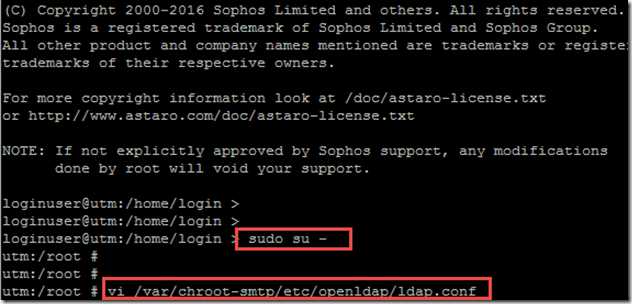 In der Datei wird die folgende Zeile hinzugefügt:
TLS_REQCERT allow


Danach die Datei speichern und die Mail Protection neustarten. Jetzt klappt auch die Empfängerprüfung mittels LDAP SSL:
2016:11:16-20:46:23 utm exim-in[24512]: 2016-11-16 20:46:23 [127.0.0.1] F= R= Verifying recipient address in Active Directory 
2016:11:16-20:46:23 utm exim-in[24512]: 2016-11-16 20:46:23 H=mx.frankysweb.com [127.0.0.1]:46468 F= rejected RCPT : Address not present in directory