Beim Erstellen von neuen Datenbanken in einer Exchange 2016 Organisation ist mir folgendes Problem aufgetreten. Die Datenbanken ließen sich problemlos innerhalb von EAC und Shell erstellen. Nachdem die Datenbanken angelegt wurden, leißen sich diese allerdings nicht mounten und blieben um Status "Einbindung aufgehoben" bzw. "Unmounted".
Leider ist die Fehlermeldung im EAC auf den ersten Blick wenig hilfreich: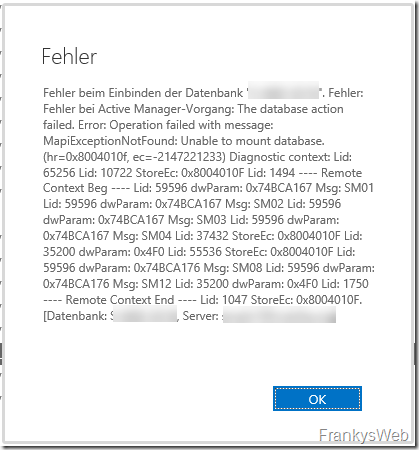 In der Exchange Shell wird die Fehlermeldung zumindest leserlich formatiert angezeigt:

Hier der Vollständigkeit halber einmal der komplette Text der Fehlermeldung beim Versuch eine neue Datenbank zu mounten:
Failed to mount database "DBNAME". Error: An Active Manager operation failed. Error: The database action failed. Error: Operation failed with message: MapiExceptionNotFound:
Unable to mount database. (hr=0x8004010f, ec=-2147221233)
Diagnostic context:
Lid: 65256
Lid: 10722   StoreEc: 0x8004010F
Lid: 1494    —- Remote Context Beg —-
Lid: 59596   dwParam: 0x74BEE59A Msg: SM01
Lid: 59596   dwParam: 0x74BEE59A Msg: SM02
Lid: 59596   dwParam: 0x74BEE59A Msg: SM03
Lid: 59596   dwParam: 0x74BEE59A Msg: SM04
Lid: 37432   StoreEc: 0x8004010F
Lid: 35200   dwParam: 0x4F0
Lid: 55536   StoreEc: 0x8004010F
Lid: 59596   dwParam: 0x74BEE59A Msg: SM08
Lid: 59596   dwParam: 0x74BEE59A Msg: SM12
Lid: 35200   dwParam: 0x4F0
Lid: 1750    —- Remote Context End —-
Lid: 1047    StoreEc: 0x8004010F [Database: S-MBX-EX16, Server: ex109.frankysweb.de]
+ CategoryInfo          : InvalidOperation: (S-MBX-EX16:ADObjectId) [Mount-Database], InvalidOperationException
+ FullyQualifiedErrorId : [Server=ex108,RequestId=c05557c8-aaf2-4017-b5c7-bddf14db5892,TimeStamp=04.01.2019 09:05:42] [FailureCategory=Cmdlet-InvalidOperationException] 69A
0F82,Microsoft.Exchange.Management.SystemConfigurationTasks.MountDatabase
+ PSComputerName        : ex108.frankysweb.de
Dieses Problem tritt häufig in Umgebungen mit vielen Domain Controllern oder mehreren AD-Domänen auf. Hintergrund ist hier die Latenz bei der Replikation. Hier gibt es auch einen Artikel von Microsoft zu dem Problem in Verbindung mit Exchange 2010:
You cannot create a new Exchange Server 2010 Mailbox database in a multiple domain environment
In meinem Fall war die Ursache allerdings etwas anders. In der Umgebung gibt es mehrere Domain Controller und mehrere Exchange Server. In diesem Fall, ohne mehrere Domänen, scheint es zum gleichen Verhalten zu kommen, wie in dem von Microsoft beschriebenen Artikel. Auch in diesem Fall hat es funktioniert, einen Domain Controller als bevorzugten Domain Controller anzugeben:
Set-ADServerSettings -PreferredServer DomainController.domain.tld


Wichtig: Die Einstellungen gelten nur für die aktuelle Session, sobald die Shell geschlossen wird, sind die Einstellungen nicht mehr wirksam und müssen bei der nächsten Sitzung erneut ausgeführt werden.
Nachdem ein Domain Controller als bevorzugter Server angelegt wurde, lies sich die Datenbank problemlos mounten. Wahrscheinlich hätte es in diesem Fall auch geholfen einfach etwas zu warten.
Dieser Fehler könnte allerdings auch auf Probleme mit der Replikation der Domain Controller hinweisen, daher sollte die Replikation innerhalb des Active Directory überprüft werden. In meinem Fall war es tatsächlich ein Domain Controller in der Umgebung der gerade mit 100% CPU Auslastung lief, hier lief ein Prozess (Virenscanner… wie immer…) gerade aus dem Ruder. Nach Reboot des betreffenden Domain Controllers lief auch die Replikation wieder schnell und problemlos.