Ich hab meinen Exchange 2010 Server nach Exchange 2013 migriert, soweit alles bestens. Allerdings hat mich die Old-School Anmeldemaske vom TMG-Server gestört. Die kommt natürlich noch im "alten" Exchange 2010 Look daher und passt vom Design her überhaupt nicht zu Exchange 2013: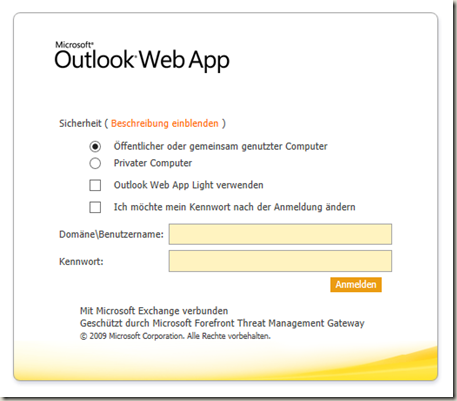 Also habe ich mir die Arbeit gemacht die Anmeldeseite des TMG Servers anzupassen, damit Sie wie die OWA 2013 Formluarbasierte Anmeldung aussieht. Hier ist das Ergebnis: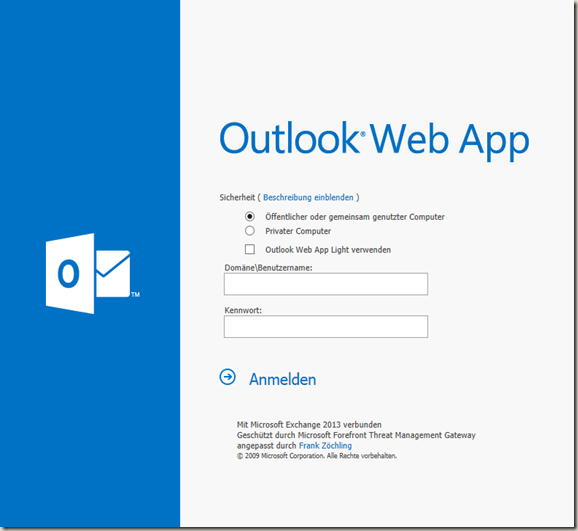 passt doch schon besser zu Exchange 2013. Und natürlich könnt ihr es runterladen und auf eigene Gefahr verwenden. Auf dem Exchange Team Blog gibt es einen Artikel wie Ihr Exchange 2013 mit Forefront TMG veröffentlicht:
http://blogs.technet.com/b/exchange/archive/2012/11/21/publishing-exchange-server-2013-using-tmg.aspx
Dort steht auch:
Don't go trying to make it look like 2013 OWA just yet, let's get the whole thing working before you start fiddling, as I know some of you will. For now, leave it…
Ich hab das nicht gaaaanz so ernst genommen. Es funktioniert, Fehlerseiten etc. habe ich nicht angepasst, nur die Login Seite.
Installation:
Auf dem TMG Server findet ihr unter "C:\Program Files\Microsoft Forefront Threat Management Gateway\Templates\CookieAuthTemplates" das Verzeichnis "Exchange"

Ersetzt das Verzeichnis mit dem runtergeladenen Verzeichnis und startet die TMG-Dienste neu.

Das ist auch schon alles. Bis ich einen Ersatz für Forefront TMG gefunden habe, belasse ich das so. Hier der Download:
[wpdm_file id=4]